'Neo-Islets', a Major Advance Toward a Functional Cure of Type-1 Diabetes
Press Release
-
updated: Jun 30, 2017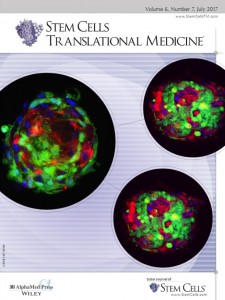 Salt Lake City, UT, June 30, 2017 (Newswire.com) - The cover of the July 2017 issue of the journal STEM CELLS Translation Medicine showcases the latest advance toward a functional cure of insulin-dependent diabetes. Scientists at SymbioCellTech (SCT), a small biotech company in Salt Lake City, developed a technology that combines Mesenchymal Stem Cells (MSCs) with culture-expanded pancreatic islet cells to form three-dimensional cellular clusters, termed "Neo-Islets". A single dose of Neo-Islets administered into the abdominal cavity provides durable blood sugar control, i.e., insulin-independence, without the need for potentially toxic anti-rejection drugs or encapsulation devices.
Type-1 diabetes is an auto-immune disease in which the patient's own immune system attacks and destroys the islet cells in the pancreas resulting in the inability of the body to produce insulin. The standard cell therapy for diabetes is islet cell transplantation into the liver; however, this approach has serious drawbacks: (1) it requires the patient to permanently take potentially-toxic immunosuppression drugs, (2) it cannot be scaled up to treat the large number of patients that would benefit from this therapy because up to 5 donor pancreata are required for a single dose, and (3) it is expensive. In order to avoid the need for immunosuppressive agents, researchers have focused on using various devices that encapsulate islets or other insulin-producing cells. These devices, made of specially-formulated materials, are designed to protect against the immune attack yet allow for glucose-sensitive insulin release. Limited success with this technology has been observed in the lab, but most encapsulation devices have failed due to foreign body reactions.
Mindful of these limitations, SCT took a different approach, termed 'natural encapsulation'. By using adult stem cells to block the immune attack on the transplanted islet cells rather than an artificial device, Neo-Islets were created that are pure cellular structures that possess all functions of a normal pancreatic islet cells, while permanently shielding their islet cell component from rejection and immune-mediated destruction.
In the journal article, SCT's scientists describe how they implanted Neo-Islets into spontaneously diabetic, immune-competent NOD mice that had naturally developed auto-immune type-1 diabetes that largely resembles human Type I diabetes. Within a few weeks, all treated mice demonstrated normal blood glucose control without the need for anti-rejection drugs or encapsulation devices. The Neo-Islets produced all physiological hormones that healthy pancreatic islets secrete.
SCT has already developed Neo-Islets for diabetic, insulin-dependent dogs and humans and, as shown in the article, successfully tested these in vitro and in vivo in diabetic NOD-SCID mice. Based on the strength of these preclinical data, SCT was granted approval by the FDA to begin testing in diabetic pet dogs. This study is currently underway. In parallel, SCT is preparing for a phase 1/2 clinical trial in patients with Type I diabetes.
SCT scientists remark that their Neo-Islet technology is a new biologic platform that has the potential to revolutionize the treatment of a number of other autoimmune diseases. Currently, SCT is focused on treating insulin-dependent diabetes due to the magnitude of this global medical problem. The American Diabetes Association estimates that over 20 percent of U.S. medical expenditures can be attributed to the provision of diabetes care, and the World Health Organization estimates over 10,000 people die every day from diabetes and its associated complications.
The cited publication can be found here.
The July issue of the cited Journal can be found here.
About SymbioCellTech:
SymbioCellTech (SCT) is a privately-funded biotech company headquartered in Salt Lake City, UT, focused on the development of stem-cell therapies for the treatment of type-1 and type-2 diabetes, microvascular diseases, neurodegenerative diseases, and auto-immune diseases. SCT is currently engaged in an FDA-sponsored canine pilot study to test the safety, feasibility and preliminary efficacy of its cellular therapeutic to functionally control blood glucose in type-1 diabetes in pet dogs. SCT is also preparing for a phase 1/2 human clinical trial for type-1 diabetes. For more information on SymbioCellTech, please visit www.symbiocelltech.com. 
Media Contact:
Allen Gardner
email: a.gardner@symbiocelltech.com
Source: SymbioCellTech LLC
Share:
---
Categories: Healthcare, Pharmaceuticals and Biotech, Chronic Diseases, Endocrinology/Glandular Disorders, Medical
Tags: biotech, cure, diabetes, disease, healthcare, Insulin, Type-1 diabetes, Type-2 diabetes
---