NAU Alum and Hall of Fame Inductee Sierra Cristiano Leading European Soccer Team to the Top of the Austrian League
Press Release
•
Sep 27, 2023
FC Pinzgau Saalfelden Women's Team Recently Promoted from the Third Division Under Cristiano Now Leads the Second Division of Austrian Women's Soccer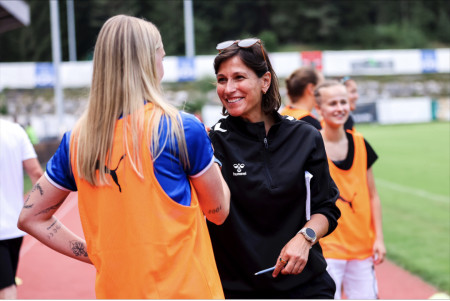 FLAGSTAFF, Ariz., September 27, 2023 (Newswire.com) - Northern Arizona University Alum and Hall of Fame Inductee Sierra Cristiano is leading the recently promoted Austrian women's soccer team, FC Pinzgau Saalfelden (FCPS), to the top of the league standings in the Austrian soccer's second division, the Bundesliga 2. Cristiano was brought in by minority owner Fan Owned Club in the spring of 2023, leading them to the third division league championship, earning promotion to the second division. After four matches in the new season, Cristiano has the team undefeated and unscored upon, at the top of standings.
Said Cristiano, "I am excited to be part of the global movement to bring women's soccer to the stage it deserves. I am inspired by the opportunity to build a sustainable program here that supports the local players and allows US players a pathway to gain international experience after college."
Steve Paris, cofounder of Fan Owned Club and an alum of the University of Massachusetts sport management program, commenting on the team's recent success, said: "We started Project Ascend last year knowing there was a big opportunity, but we did not expect this level of success so early. Sierra has done an incredible job. The local players and community have really responded to her and what we are trying to do."
Along with cofounder Trey Fitz-Gerald, a longtime executive at MLS club Real Salt Lake, Paris and his company, Fan Owned Club, crowdfunded a minority stake in FCPS in 2019. They have turned the club around, taking a relegation zone men's team to the playoffs two times in four years and launching the area's first Austrian federation sanctioned youth Academy this fall. But the women's initiative, code named Project Ascend, might prove to be the most significant example yet of how everyday fans can make a difference through Fan Owned Club. "We're hoping more fans of the beautiful game, especially the women's game, will join us on this journey," said Paris.
For more information on Fan Owned Club, visit https://fanownedclub.com. For more information on FC Pinzgau Saalfelden, visit https://fcps.at
For interview requests, contact Kevin Doyle at 904-806-1714 or via email at Kevin.Doyle@WexfordStrategies.com
Source: FC Pinzgau Saalfelden Soccer