Natural Insight Launches Workforce Health to Increase Visibility Into On-Demand Workers and Distributed Teams
New Performance Score Helps Employers Staff the Best People for the Best Job
Press Release
-
updated: May 1, 2017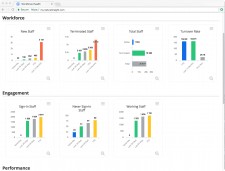 Sterling, Virginia, May 1, 2017 (Newswire.com) - Natural Insight, a leader in enterprise cloud and mobile applications for retail merchandising and workforce management, announced its new Workforce Health features, which help tackle one of the biggest challenges for employers: finding and retaining high-performing workers. Each worker in Natural Insight is now assigned a 1-5 Workforce Health score. The score uses a proprietary algorithm based on analysis of 34 million work assignments, as well as evaluates individual historical performance. With Workforce Health, employers can access metrics related to their workforce and analyze performance, engagement, and productivity trends in a sleek, visual dashboard.
"At Natural Insight, we strive to help our customers maximize sales revenue and build stronger relationships with consumers," said Stefan Midford, CEO of Natural Insight. "Identifying and retaining top talent is key. Our new Workforce Health capabilities combine staff performance with availability, skills, and proximity so that employers can assemble the best possible teams to drive ROI."
Employers can offer new assignments to workers based on their Natural Insight rating, which creates more opportunities for those who have a successful track record. In return, employers build better, more-effective teams and improve the quality of their field execution, translating to fewer store re-visits, improved compliance and an increase in sales. Workforce Health also lets employers measure how their hiring strategies are performing by providing visual data on hiring trends and turnover rates. With this information, employers can see if they are getting the most out of their recruitment dollars.
"This new performance rating system provides our staffing company with an unparalleled level of detail about our workforce," said Lisa Ritchie, VP Talent, North America, Match Marketing Group. "We are able to identify our field heroes and assemble the ultimate A-team — driving more value for our clients who count on us to recruit and manage workers across the U.S."
Natural Insight is the enterprise platform for delivering perfect execution through enhanced staff communication, on-demand staff scheduling, integrated timekeeping, project management and Reveal Analytics. With its mobile WorkTrak app, the company enables workers to be more productive, anywhere at anytime, creating a seamless field data collection experience. Benefits to companies include cloud-based technology that can be set-up in just days, robust reporting tools and a dedicated account manager for personalized customer support.
"In today's gig economy, using actual job data in addition to performance reviews to assess performance will be a game changer when building a reliable workforce. And we intend to deliver more innovation to the market in the coming year. With machine learning and predictive analytics, the possibilities are endless," added Midford.    
With over 34 million assignments managed, Natural Insight has collected in-store execution information on behalf of hundreds of brands in over 120,000 stores across North America and around the world. Natural Insight is quickly becoming the industry's largest visual verification platform, with more than 1 million photos captured and verified monthly. 
About Natural Insight
Merchandisers, product companies, marketing agencies and retailers in over 20 countries rely on the Natural Insight cloud-based platform to improve retail execution and reduce costs. Natural Insight leads the industry today with fully integrated mobile and Web-based staff scheduling, timekeeping, task management, field communications, and analytics. Natural Insight is privately held and headquartered in Sterling, Virginia with offices in Toronto, Canada, and Birmingham, England.
Visit naturalinsight.com for more information.
Media Contact:
Amanda Waks
Waks Studios
Amanda@waksstudios.com
(561) 504-4997
Source: Natural Insight
Share:
---
Categories: Retail, Computer Software, Retail Technology, Saas (Software as Service), Staffing
Tags: field execution, on-demand workforce, Recruiting, retail execution, Staff engagement, Staff Rating, Workforce Health, workforce management
---