Nation's First Smart Shade Pilot Program Yields Over 13% Savings on Electric Bills
Press Release
•
updated: Aug 16, 2023
Baltimore Gas & Electric reports energy savings from automated shading solutions following yearlong study.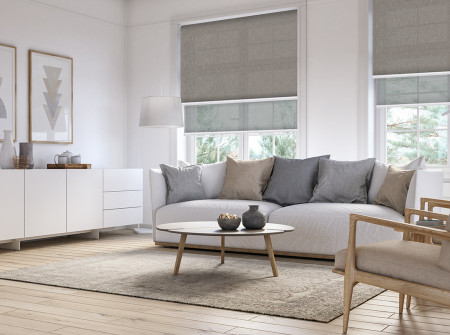 STAMFORD, Conn., August 15, 2023 (Newswire.com) - Department of Energy lab studies have shown that shade automation can yield substantial energy savings. While heating and cooling efficiency is an assumed inherent benefit of window coverings, the energy savings potential hasn't been measured in a residential application. Until now.
A Legacy Company with Innovative Vision
Baltimore Gas & Electric (BGE), the largest gas and electric utility provider in the state of Maryland, partnered with industry leaders Hunter Douglas and Rollease Acmeda, along with the Attachment Energy Rating Council (AERC), to demonstrate the potential energy savings of automated window shades through the nation's first Smart Shade Pilot Program.
The Case for Sustainable Shading at Home
To prove the potential energy savings, BGE took the study out of the lab and into a real-life scenario, selecting 15 residential participants in BGE's territory to install Rollease Acmeda and Hunter Douglas automated shades in their homes, which varied in size and style. For one full year, the shades operated on AERC's recommended automation schedule to open and close based on time of day and the sun's position. For example, shades were programmed to be down during the day in the summer months to reduce cooling costs. Some adjustments were made for individual homeowner preferences using their smartphone (e.g. leaving shades open enough that pets could see outside). The pilot participants had an AMI meter to share utility data from 12 months prior to and after shade installation. In addition to collecting energy data, BGE conducted four quarterly participant surveys to learn more about customers' experiences and to better understand individual use.
Automated, motorized shades are rapidly capturing the market as they offer unparalleled convenience, enhanced privacy, and superior safety compared to their traditionally manual counterparts. Additionally, they offer battery-powered operation and compatibility with voice activation systems like Amazon Alexa, Apple HomeKit, and Google Home.
Solid 13%+ Electricity Savings Proves Shade Value
Across the board, participants indicated improvement in the comfort and temperature of their homes. On average, customers saved 13.5% on electricity and 3.4% on gas over the installation period.
"Automation takes the hassle out of opening and closing the shades daily and allows us to consistently reap the energy and cost savings benefits", one participant said.
Despite the small sample size, these results demonstrate the power of automated shades to measurably reduce residential energy consumption and costs. Based on the successful pilot, BGE is considering opportunities for smart shades in future programs.
"We're committed to creating innovative solutions that positively impact our customers and the community. Not only did the automated shades enhance the look and comfort of occupant homes, they also helped to reduce energy consumption and save on utility bills," said Amey Bayes, Sr. Energy Efficiency Program Manager for BGE.
About Rollease Acmeda Rollease Acmeda innovates, designs and manufactures window covering hardware for manual and automated shades, as well as specialty fabrics, for use in both commercial and residential applications. Rollease Acmeda is the largest independent engineered component and systems manufacturer and distributor in the window covering industry. Headquartered in Stamford, Connecticut, the company has a global team of over 270 associates and distribution facilities spanning the U.S., Australia and Europe, serving thousands of customers in more than 40 countries around the world. To learn more about the company, visit rolleaseacmeda.com.
About Hunter Douglas Since 1946 Hunter Douglas has led the window-covering industry with products that deliver revolutionary style and best-in-class functionality. The company's expertise in customization, automation, and innovation has established them as a most trusted brand. Hunter Douglas products are proudly designed, developed and custom-crafted with health and safety in mind. The innovative product designs are paired with gorgeous fabrics and control systems that can be scheduled to automatically adjust to optimal positions throughout the day, creating a new world of beauty, convenience, and energy efficiency in the home.
About Baltimore Gas & Electric BGE is Maryland's largest natural gas and electric utility, providing safe and reliable energy delivery to more than 1.3 million electric customers and 700,000 natural gas customers in central Maryland. The company was founded in 1816 as the nation's first gas utility and remains headquartered in Baltimore City to this day. BGE is a subsidiary of Exelon Corporation, the nation's leading energy utility company. Engage with the latest BGE stories on bgenow.com and connect with BGE on Facebook, Twitter, Instagram, and YouTube.
Source: Rollease Acmeda