National Scooter Day Helmet Giveaway by Micro Kickboard
Press Release
-
May 16, 2016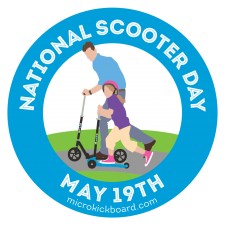 Los Angeles, California, May 16, 2016 (Newswire.com) - On May 19th, Micro Kickboard invites schools, children, parents, and commuters alike to join them in a day of scooting in celebration of National Scooter Day, whether it's riding to school instead of driving, commuting to work, or going for a quick cruise around the neighborhood to get some exercise. Micro embraces the 'green' lifestyle and encourages riders to scoot instead of drive, when the distances allow, to reduce our carbon footprint and keep the Earth green. 
To celebrate this national holiday, the host, Micro Kickboard, is giving away 1000 of its Micro brand helmets. Micro Kickboard values the safety of scooter riders and says wearing helmets while scooting, especially for kids, is the most important scooter safety rule there is!
Micro says that National Scooter Day is a great day to celebrate the revolution that's been taking place with scooters and kickboards being used as transport as well as fun, by adults and kids alike. Kids ride scooters to school and adults are riding Micro's boards to the office from the train station. They recently introduced an electric hybrid scooter, the emicro one, that goes reaches speeds of up to 15 mph.
Micro Owners Geoff and Julie Hawksworth say "the revolution is all about a new level of quality that enables scooters to be used for short commutes of up to a couple miles.  The scooters are exceptionally smooth-gliding and comfortable to ride,  and they fold up so they can be taken inside at your destination. And, they are more than twice as fast as walking and go places a bicycle can't - sidewalks for example. A very convenient transportation option."
500 of the Micro helmets will be given away at the Great Big Play day to be held on May 22 in Los Angeles at Griffith Park, sponsored by So-Cal Moms. Micro will give away the children's helmets to the first 500 people to visit their safety-zone section.
The other 500 helmets will be available at microkickboard.com on May 19th, while supplies last.
Source: Micro Kickboard
Share:
---
Categories: Transportation, Children's Issues, Travel, Transportation, and Hospitality News, Family Travel, Child Sports, After School Recreation and Lessons, Personal Travel
Tags: children's interest, commuting, micro kickboard, national scooter day, scooters
---