National Scooter Day 50 Scooter Giveaway by Micro Kickboard
Press Release
-
updated: May 18, 2017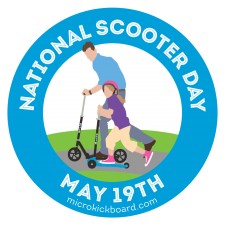 Los Angeles, California, May 18, 2017 (Newswire.com) - Quality scooter brand Micro Kickboard is the host of National Scooter Day, May 19th, a day that celebrates scooting as a fuel-free, eco-friendly, healthy and safe way to travel — for adults as well as children. Micro will be encouraging families to get outside and scoot, and for people to choose scooting as a means of alternative transport to school or work.
Micro Kickboard owners Julie and Geoff Hawksworth said they couldn't think of a better way to celebrate National Scooter Day than to get more people scooting, so today, May 18, 2017, they're giving away 50 scooters — 25 children's scooters and 25 adult scooters. It's all happening on their Facebook page (@microkickboard). Winners will be announced tonight at 8 p.m. EST. On Friday, National Scooter Day, Micro is planning a 24-hour Flash Sale on the Mini and Maxi Original and select scooters for adults on their website, www.microkickboard.com.
Micro scooters can now be seen on the sidewalks of most big cities, where kids use them to get to school or the park. Adults are embracing Micro scooters, too, for the first or last mile of their commute — from home-to-station and on the other end, from station-to-work. Micro Kickboard recently held its 2nd pop-up shop at the Facebook campus in Menlo Park, California, where many employees travel by train to get to work, but have a 'micro' distance to travel from their home to the station. Micro Scooters are an excellent way to cover that distance quickly, and they also are foldable and lightweight. They also can be ridden on sidewalks, useful for those who like to get places in a hurry but are wary of riding in the street.
Overall, Micro's goal is to promote a healthy, active lifestyle for children and adults alike. Tomorrow, Micro Kickboard invites families across the country to participate by riding scooters to school, work, the park, across campus or just around the neighborhood.
Head to their Facebook page today for entry details on the 50 Scooter Giveaway. (Entry closes today, May 18th at 7 p.m. EST.)
Media Contact:
​Jamie Rau, (888) 236-5657
​marketing@microkickboard.com
Source: Micro Kickboard
Share:
---
Categories: Transportation, Family Travel, Toys, Travel and Transportation, Family, Travel, Transportation, and Hospitality News
Tags: commuter, family, kick scooter, scooting, travel
---