National Poll Reveals Psychological Barriers Adults Must Overcome Before Reporting Child Sexual Abuse
Author of Award-Winning Book Partners with National Pollster to Identify Obstacles
Press Release
-
updated: Jun 22, 2017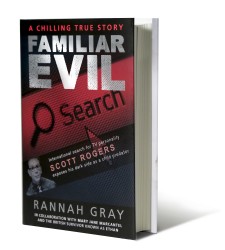 Portland, Maine, June 22, 2017 (Newswire.com) - A recent national survey found huge psychological deterrents for reporting child sex abuse which adults may use as a rationalization for not getting involved to protect children.
72 percent of respondents say they worry about being wrong, 66 percent worry an investigation might be harmful to the child, and 59 percent fear retaliation by the accused, meaning they recognize a child sex offender may be dangerous beyond their abuse of children.
Rannah Gray, author of Familiar Evil, a behind-the-scenes account of an international criminal investigation that helped victims expose a dangerous child predator, released the poll today at the American Professional Society on the Abuse of Children Annual Summit held in Portland, Maine. Familiar Evil has received ten national book awards and was named Best True Crime and Best New Nonfiction of 2016. 
Dr. Jim Kitchens, founder of The Kitchens Group in Orlando, Florida, conducted the poll. The New Orleans Children's Advocacy Center provided input on current trends observed in its work with child victims of sexual abuse.
"There is great apprehension among most people in dealing with this very difficult subject," said Gray, who speaks regularly about her experience helping a young British man seek justice against a child predator in the U.S.
According to the survey, the age and sex of the victim weighs heavily on decisions to report. 84 percent or higher said they were very likely to report suspected sexual abuse of children under 12 years of age; however, only 73 percent were likely to report for a child 13-16 years old.
Participants were also asked what action they would take if they learned a child 12-14 years of age, who looked and dressed maturely, had sexual contact with an adult. 23 percent of respondents said they would report the abuse of a boy to authorities, yet only 16 percent would report for the girl. 44 percent would speak to the parents of the girl, while only 27 percent said they would speak to a young boy's parents.
"The survey shows the fear factors people face with this subject are very strong, which provides a rationale people use for not reporting," said Dr. Kitchens. "There are huge psychological deterrents adults have to overcome, which screams for more public education."
"The challenge is to provide support and protection for those who stand up for children," said Gray.
Only about one-third of respondents reported they would know what to do if they believe a child is being sexually abused, and only 18 percent over age 65 years said they would know what to do.
Regarding statutes of limitation for victims to file charges against abusers, 69 percent of respondents said there should be no statutes of limitation.
The Kitchens Group conducted the online survey of a national sample of 600 participants in April 2017. The survey has a margin of error of + or – 4 percent.
For more information contact:
Lisa Noble: (562) 429-3821 or lln@mocpr.com​
​Dr. Jim Kitchens: (321) 217-3763 or JimTKG@cfl.rr.com
Source: Familiar Evil
Share:
---
Categories: A&E News, Books, Public Education
Tags: child abuse, national poll, psychological barriers, public education, social services, social work
---