National Entrepreneurs Association Hosts Entrepreneurs Forum in Detroit on May 19
Press Release
•
Apr 13, 2023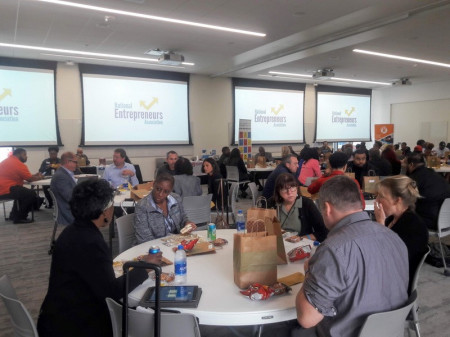 DETROIT, April 13, 2023 (Newswire.com) - The National Entrepreneurs Association will host the 2023 Entrepreneurs Forum bringing entrepreneurs and influencers together to network, learn and grow. The event will be in person for the first time since 2019 on Friday, May 19, from 9 a.m. to 2 p.m. ET at Hollywood Greektown Casino in Downtown Detroit. The theme of this year's event is resilience, with the goal of providing tools to help entrepreneurs recover quickly from setbacks.
Since 2011 the Entrepreneurs Forum has provided a space for entrepreneurs to connect, share ideas and discuss the issues that matter most to business owners. Through keynote speakers, panel discussions and breakout sessions, the event provides numerous opportunities for growth. Exhibitors will be on hand to provide resources essential to the entrepreneurial journey.
Keynoting the Entrepreneurs Forum is Michael McFall, co-founder and co-CEO of BIGGBY COFFEE, the U.S.' third-largest coffee franchise. Having originally started with BIGGBY in 1996 as a minimum-wage barista, McFall has held just about every role within the company over the last 26 years. Two decades later, BIGGBY COFFEE has over 330 stores across 12 states. McFall is the author of "Grind: A No BS Approach to Take Your Business from Concept to Cash Flow." He will receive the NEA Lifetime Achievement Award at the event along with fashion industry veteran Linda Schlesinger-Wagner, founder of Skinnytees.
Kicking of the event will be Greg Kelser who graduated from Michigan State University and along with Earvin "Magic" Johnson, captained the Spartans to the 1979 NCAA basketball championship. He was drafted by the Detroit Pistons and played for six years. Kelser has served as a television broadcaster for the Pistons since 1988. He will discuss how to be a champion in business.
The event will include a panel discussion, "The Resilient Entrepreneur: 5 Ways to Bounce Back from a Set Back," moderated by radio host and empowerment coach Angela T. Moore. Panelists include international photojournalist Monica Morgan, speaker and author Lisa Howes, founder of Blended Collective Lydia Michael, and founder of Her Bold Voice Kim Boudreau Smith.
"Resilience is a trait that entrepreneurs must have to reach their goals. Challenges are a normal part of the journey, however, if you are unable to view challenges as opportunities, it may cause you to give up. This forum puts entrepreneurs who have mastered resilience front and center so that we can learn from their experiences," said National Entrepreneurs Association President ZaLonya Allen, PhD. There will be eight breakout sessions. Topics include Video Marketing, Tik Tok for Business, How to Work with Corporations, Artificial Intelligence, Mentoring, Best Funding Options in 2023 and more.
Sponsors include Comerica Bank and Dell Technologies. The event is open to the public. Registration is $97 and includes breakfast and lunch. For the full agenda or to register, visit nationalentrepreneurs.org or call 248-416-7278.
The National Entrepreneurs Association is a 501c3 non-profit corporation founded to empower entrepreneurs to grow and sustain successful businesses through quality networking events, pitch competitions and training programs.
Source: National Entrepreneurs Association