Nashville Church Answers 'What is Scientology?'
A religious studies class learns fundamentals of the Scientology religion through a tour of the Nashville Church of Scientology.
Press Release
-
updated: Mar 23, 2018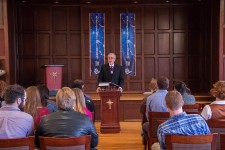 NASHVILLE, Tenn., March 23, 2018 (Newswire.com) - Since the dedication of their new home in 2009, the Nashville Church of Scientology has welcomed student and community groups to tour its Public Information Center, attend Sunday service or a seminar, and ask any question they may have about the religion.
Anticipating an increase in these requests with the launch of the Scientology TV Network, the Church opened its doors to a religious studies class last Sunday.
"We always enjoy hosting students, people of other faiths and anyone who has questions about Scientology," says Rev. Brian Fesler, pastor of the Church of Scientology in Nashville. "A basic tenet of Scientology is that what is true for you is what you observe yourself. So I very much appreciate it when people look for themselves."
The Nashville Church has hosted numerous tours since it opened in the historic Fall School. Built in 1898 in a similar style to the city's iconic Ryman Auditorium, the 36,000-square-foot Church served the area as a public school until 1970. Many original features were preserved, including the hardwood floors, doors and stairwells and eight solid wood pillars capped with iron that support a central three-story atrium.
Those arranging to visit may wish to attend the Church's Sunday service, consisting of a reading of the Creed of the Church of Scientology, a sermon based on the writings of Scientology Founder L. Ron Hubbard or the playing of one of his recorded lectures, and the ministration of Scientology spiritual counseling in which all attending participate.
Or they may be interested in the Personal Efficiency Course or a workshop or seminar on one of the Church-sponsored humanitarian programs: United for Human Rights, Foundation for a Drug-Free World, Citizens Commission on Human Rights, the Volunteer Ministers program or The Way to Happiness, the common-sense moral code written by L. Ron Hubbard.
A highlight of the tour for many is the opportunity to "see a thought" with a demonstration of how the E-Meter registers and shows the changes in mental state of the individual.
For more information on the Church of Scientology, its programs and community involvement, or to arrange for a tour or seminar, visit the website of the Nashville Church of Scientology.
Source: ScientologyNews.org
---
Categories: Religion
Tags: Church of Scientology Nashville, religious studies, Scientology, tour
---