NanoNotion Enterprise Add-on Enhances Ability to Drive Early Innovation via Wisdom of the Crowd
Press Release
-
updated: Aug 2, 2018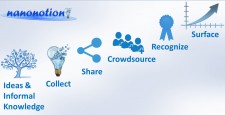 NORTHBORO, Mass., August 2, 2018 (Newswire.com) - Intralearn Software (ISC) announced today an enterprise-class add-on to NanoNotion, a Microsoft Azure Certified SaaS application. NanoNotion focuses on harnessing ideas and knowledge organization-wide. The enterprise add-on builds upon the base application's ability to help surface early innovations, encouraging idea and knowledge sharing, knowledge bookmarking, and digital suggestions. Both individuals and the organization benefit by having access to valuable metrics.
The enterprise add-on includes an anonymous option, group sharing and privacy, tagging, favorites, a browser add-on for quickly creating Notions, confirmation methods, enhanced commenting, collaboration, and more. With the enterprise add-on feature, NanoNotion further leverages the ability to recognize users for contributing, sharing, and consuming even small nuggets of knowledge. It remains affordable and easy to use for the entire organization, not just those with a project or team orientation.
"As a long-term developer of knowledge systems, we count on Microsoft Azure to deliver tools that improve developer productivity and global-scale cloud services that allow NanoNotion to address dramatic changes in knowledge." These transformations include decreased durability, the nano-sizing of everything, loss of institutional knowledge, increase in subject matter experts, the need for the aggregation of 'voices,' and the recognition and retention of personnel," said Jerry Goguen, CEO of Intralearn.
NanoNotion, born as an Azure software-as-a-service application, extends customers' reach into the resources available anywhere within their organizations or the Web. NanoNotion integrates with Azure Active Directory, Azure SQL Database, and Microsoft Office 365 Groups.
"We're excited to see partners like Intralearn Software integrate with products across Microsoft cloud services," said John "JG" Chirapurath, General Manager, Azure Data & Artificial Intelligence, Microsoft Corp. "By combining Microsoft tools with their enterprise-class SaaS application, our mutual customers benefit from the ability to harness the knowledge inside their organizations."
Pricing and Free Trial
NanoNotion is subscription-based for all Office 365 Business and/or Azure customers. Subscriptions begin as a low as $250 per month for 150 users. Use your Azure AD account to obtain a free 30-day, 20-user trial at Microsoft AppSource. Visit www.nanonotion.com to learn more.
 About Intralearn
Intralearn Software Corporation of Northboro, MA is a pioneer in technology for the rapid creation, delivery, and measurement of knowledge for corporate enterprises, academic institutions, associations, and government agencies. ISC's NanoNotion offering includes extensibility that is ideally suited for Microsoft partners who wish to provide custom implementations. ISC prides itself in making knowledge tools affordable, with turnkey offerings that leverage the full suite of Microsoft infrastructure and software.
 Contact Information
Jerry Goguen
Intralearn Software Corporation
508.393.2277 or info@nanonotion.com
Source: Intralearn Software
---
Categories: Business Technology
Tags: information governance, share and exchange ideas, validate reading of policies and procedures, wisdom of the crowd
---