Nancy Rodriguez of the BeOnAir Network Among Distinguished List of Florida Education Leaders Inducted Into Hall of Fame
Press Release
•
Aug 16, 2023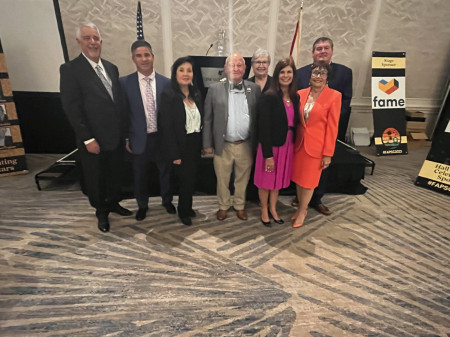 MIAMI, August 16, 2023 (Newswire.com) - The BeOnAir Network of Media Schools is delighted to congratulate Chief Executive Officer Nancy Rodriguez on her induction into the Florida Association of Postsecondary Schools and Colleges (FAPSC) Hall of Fame. The Hall of Fame honors individuals who have made a significant contribution to the private postsecondary schools and colleges sector in Florida, and Nancy was formally inducted at the FAPSC annual conference in August 2023 alongside six other education sector leaders.
Nancy expressed her appreciation for the recognition: "I have had the pleasure of being involved with this organization for the last 30 years and have met many inspiring pioneers and trailblazers who have worked hard to create educational choice and mentor the next generation of education leaders."
At BeOnAir Network of Media Schools, our mission is to provide ambitious students with the opportunity to gain real-world experience with hands-on training and a high-quality education. Our diploma programs cover a variety of media fields and are accredited by the Accrediting Commission of Career Schools and Colleges (ACCSC), which is recognized by the U.S. Department of Education. We strive to ensure that our students have access to multiple educational institutions, so they can receive comparable data and be fully protected.
"The challenges that face higher education today will only be resolved by ensuring each student has access to multiple types of educational institutions," Rodriguez added. "I believe in life-long learning. We no longer live in a society where we can pretend education is a one-size-fits-all solution. I will continue to join the FAPSC organization in fighting for equitable regulations, legislation that allows transparency for all students, and full disclosures on outcomes across the board. For students to be fully protected and have access to educational opportunities, we must ensure they have comparable data from every institution of higher learning."
We are proud to have Nancy Rodriguez as our leader and her induction into the FAPSC Hall of Fame is a testament to her commitment to providing students with the best possible educational opportunities.
Source: BeOnAir Network of Media Schools