Naked Root Planter: When Roots Breathe, Plants Thrive
Press Release
•
May 16, 2023
Grow healthy and beautiful houseplants even if you're "not good with plants." Harness oxygen to stop root rot and grow vibrant plants.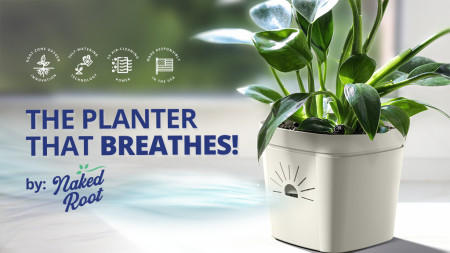 LEBANON, Conn., May 16, 2023 (Newswire.com) - We are thrilled to announce the launch of our revolutionary new product, the Naked Root 8'' Planter on Kickstarter. The planter is the world's first self-watering planter with Root Zone Oxygen technology, which delivers the perfect ratio of water, soil, and oxygen to plant roots, putting an end to "root rot" - the number one cause of houseplant death.
Traditional planters may appear to be a simple option for planting, but their design can actually create significant problems for plants. Water can quickly filter down and get trapped, leaving the top dry and the bottom wet. This imbalance can cause root rot and inefficient, strangling roots.
"After four years and 34 prototypes, employing countless engineers and lots of trial and error, we have finally created a planter that mimics how plants grow in nature by simulating the natural "breathing" of roots when they exchange water with oxygen. This would make root rot highly unlikely and help plant owners easily grow healthy, beautiful plants," says Frank Catalano, the founder. The Naked Root 8'' Planter is a unique self-watering planter with a revolutionary wicking and aeration system. It eliminates the risk of underwatering or overwatering the plants, making it easy for even the most inexperienced gardener to grow amazing plants effortlessly.
With the innovative 360° Root Zone Oxygen system, oxygen enters all areas of the root zone, resulting in efficient root respiration and even drying, preventing root rot. And when oxygen contacts roots, their tips dry out and stop circling-a phenomenon called "air root pruning" resulting in a super-efficient root system for maximum absorption of water, nutrients, and oxygen producing amazingly healthy plants. "At our home, we grow as much of our own food as possible, and it was in our garden that we found the inspiration for the Naked Root planter. Our hope is that Naked Root can help people bring more greenery into their lives and make a difference in the world," says Frank.
See Video.
About the company:
The company was founded in August 2021, but its roots trace back to 2018 when Frank and Lisa began designing their product with a simple yet ambitious goal: to bring more plants into people's lives. At the heart of their mission lies the belief that plants possess an extraordinary regenerative power that can heal not only the body and mind but also the planet we call home.
Source: Naked Root LLC
Tags
Related Files