NAD Introduces Performance-Minded C 568 CD Player
Press Release
-
Sep 13, 2016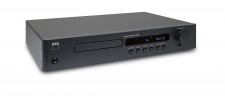 Dallas, TX, September 13, 2016 (Newswire.com) - NAD Electronics, the highly regarded manufacturer of high-performance audio/video components, announces their new C 568 a high performance CD player engineered for musicality and simplicity true to the brand's proud tradition. Designed as a direct upgrade to its predecessor, the award-winning NAD C 565 BEE, the C 568 will be available in October with an MSRP of $699.
In addition to the new and more refined cosmetics, the circuit layout and component choices for the C 568 have been extensively updated. Many of the techniques NAD has perfected for High Res Audio playback have been applied to the venerable CD format, including the high precision clock for lowest possible digital jitter performance, the latest generation Wolfson DAC, and the same Super OPAmps derived from NAD's Masters Series. The cumulative effect of these changes is dramatic, improving low frequency slam and extension, while maintaining the pace and timing for which the C 565BEE was so lavishly praised. Image depth and scale are further enhanced while retaining the timbral accuracy and lucid harmonic structure of its predecessor. In short, C 568 delivers best-in-class sound.
The new industrial design of the C 568 imparts a sleek new profile to the Classic NAD face and is the ideal cosmetic complement to the popular C 368 Hybrid Digital DAC Amplifier. The C 568 plays both CD and CD-R/W and decodes MP3 and WMA files copied to CD-R for up to 10 hours of continuous play.
For added convenience, the NAD player offers "Repeat" function for 1 song, 1 disc, or AB repeat, "program play" with direct access from the remote control and "forward" and "reverse" skip and search functions. An informative VFD display gives complete information about tracks and time.
The Model C 568 comes supplied with the new NAD CD-9 remote control, offering all of the features in a simple-to-use layout. In addition, the remote control handset provides direct track access and programming facilities as well, saving the user's time when they're storing preferred song titles. Up to 40 tracks can be programmed.
Replacing any award-winning product with another can be risky business but that is essentially what we have done with the C 568," commented Greg Stidsen, NAD's Director of Technology and Product Planning. "However NAD is all about continuous improvement and we were confident we could make significant upgrades to an already proven product. True to NAD's design philosophy, we've focused our investment in areas that will provide the most sonic benefit and avoided the frills that only add cost and complexity. The result is a remarkable CD player and outstanding value."
Complete Features of the NAD C 568 CD Player:
CD, CD-R and CD-RW Compatible
USB Input supports external memory and audio rates up to 384kbps
MP3 and WMA decoding
NAD CD-9 remote control • Ultra-High Precision Clock Module for low phase jitter
Wolfson 24 bit Digital to Analog Converter
Super High-Speed OPAmps
Coaxial Digital Output
Optical Digital Output
Toroid Power supply with separate power regulators for analogue and digital sections
VFL Display with CD text
Repeat Mode for single track or entire CD
Program Play up to 40 tracks • Random Play •
External IR input • 12V Trigger input
<0.5-watt Standby consumption • Detachable AC cord
NAD will be exhibiting at CEDIA Expo 2017 in Booth 5716, September 15-17, at the Kay Bailey Hutchinson Convention Center in Dallas, Texas. NAD personnel will be on hand to answer questions about the company's CI products as well as other NAD models. Sister brands PSB and Bluesound will also be featured in the same exhibit.
About NAD
Founded in 1972 and now sold in over 80 countries, NAD Electronics is renowned for its award-winning line of high quality components for audio, home theater and custom installation applications. The company's products consistently deliver outstanding performance, value and simplicity. With nearly forty-five years of innovation and value, NAD products are proudly distributed in more than 80 countries around the world.
Corporate Contact
Mark Stone, Marketing
Phone: (800) 263-4666 ext 4422 E-mail: mstone@lenbrook.com 
NAD Website: http://www.nadelectronics.com
Press Contacts:
Peter Hoagland
North American Media Relations, Bluesound
peter@hoagland.us
Richard Stevenson
International Media Relations, Bluesound
richard@rspr.co.uk
Source: NAD Electronics
Share:
---
Categories: Business Technology, Electronics, Consumerism
Tags: CD Player, CEDIA, CEDIA 2016, High Performance Audio, NAD Electronics
---