NAD Electronics' T 758 V3 A/V Receiver Named Best Premium Home Theatre Receiver by World's Most Prestigious Hi-Fi Press
EISA editors voted to recognise its versatility, value, performance, and future-proof design.
Press Release
-
updated: Aug 14, 2019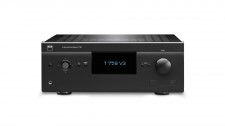 PICKERING, Ontario, August 14, 2019 (Newswire.com) - NAD Electronics, a leading manufacturer of premium home audio and video products, announced today that the T 758 V3 A/V Receiver has won a prestigious EISA Award for Best Premium Home Theatre Receiver for 2019-2020. EISA, the Expert Imaging and Sound Association, is an independent body of over 50 speciality electronics magazines from around the world. The award-winners are chosen as the best in their category from the thousands of products tested and reviewed by EISA member magazines over the year. NAD representatives will be accepting the award during the EISA Awards Gala, scheduled for September 6, 2019, in Berlin, Germany.
First launched in 2017, the T 758 V3 was cited by the editors of EISA's hi-fi audio publications for its versatility, value, performance, and future-proof design, using NAD's Modular Design Construction (MDC) platform, which allows users to upgrade features as new technologies emerge by switching out or adding modules into card slots in the back of the device.
"For premium features without the premium price, look no further than NAD's T 758 V3 AV receiver," says Greg Stidsen, Chief Technology Officer at NAD Electronics. "A seven-channel Dolby Atmos/DTS:X design expandable to 7.1.4 via external amplification, it implements Dirac Live automatic room correction for best-in-class calibration, plus NAD's Modular Design ConstructionConstrution (MDC) to offer a pathway to future specification upgrades, avoiding obsolescence. There's BluOS integration, too, introducing access to streaming music platforms and multiroom capability with Bluesound products, not to mention MQA playback. But it's how this receiver sounds in full flight that really impresses. Its performance is naturalistic and full of subtlety, yet blessed with a dynamic punch from its PowerDrive amplification. With both movies and music, this delivers." 
"The original T 758 was launched back in 2011," says Cas Oostvogel, Product Manager at NAD. "The owner of an 8-year old NAD AV receiver can bring it up-to-date by adding new technologies like Dolby Atmos, DTS:X, BluOS music streaming, 4K-Ultra HD HDMI and more. I don't know many other hardware products where that's possible, neither within or outside of our industry. It's a remarkable feat and we're pleased that the hi-fi editor community agrees that it's unique enough to receive their highest accolades."
With the EISA Awards now in their 32nd year and membership including the leading audio journals from Europe, The Americas, and Asia-Pacific, the results are widely regarded as one of the highest honours in the hi-fi industry. To win an EISA award, products undergo a robust, rigorous and exhaustive judging process in two stages. Following intensive testing and audition at the facilities of EISA member magazines, each journal submits a shortlist of the best products in each awards category. The second stage takes place at EISA's annual General Meeting, where a democratic voting process establishes a consensus of excellence and determines the winning products.
The T 758 V3 A/V Receiver is available at select premium audio retailers around the world.
Press Contacts:
Peter Hoagland
North American Media Relations, NAD Electronics
peter@hoagland.us
Richard Stevenson
UK Media Relations, NAD Electronics
richard@rspr.co.uk
About NAD Electronics
Founded in 1972 and now sold in over 80 countries, NAD Electronics is renowned for its award-winning line of high-quality components for audio, home theatre and custom installation applications. The company's products consistently deliver outstanding innovation, performance, and value.
For more information visit www.nadelectronics.com
​
​Follow NAD on: Facebook | Twitter 
Source: NAD Electronics
Share:
---
Categories: Consumer Electronics
Tags: audio/video, dirac live, eisa, home theatre, nad electronics, stereo equipment, surround sound, surround sound receiver, t 758
---