N8 Identity Announces TheAccessHub Admin Tool
New Product Simplifies and Accelerates Legacy Migration to Microsoft Azure Active Directory B2C; No Customization or Coding Required
Press Release
-
updated: Aug 9, 2018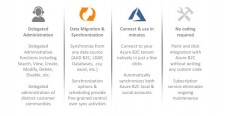 BURLINGTON, Ontario, August 9, 2018 (Newswire.com) - N8 Identity, the leader in agile, cloud-based identity governance solutions, today announced the launch of TheAccessHubTM Admin Tool for Microsoft Azure Active Directory B2C (AAD B2C). TheAccessHub Admin Tool addresses the implementation challenges organizations face when migrating their legacy identity service to AAD B2C. With TheAccessHub Admin Tool, businesses can realize the full benefits of AAD B2C quickly and more cost-effectively – without the expense and ongoing maintenance of developing custom code.
Positive and intuitive customer experiences are increasingly critical to business success. Customers today demand access to secure online services and commerce, and they won't hesitate to go to a competitor to get it. Customer Identity Access Management (CIAM) has become a critical element of any marketing strategy and requires balancing customer experience and security – and businesses must be mindful not to sacrifice one in pursuit of the other.
A leader in the CIAM market, AAD B2C is a cloud identity management solution for web and mobile experiences. However, consumer-facing businesses that are migrating their legacy identity services to leverage the powerful  features of AAD B2C face several challenges, including these concerns:
How can customer accounts be migrated from existing consumer databases, directories or other sources? 
How can we ensure the experience is totally seamless for our customers?
How will customer help desks manage the AAD B2C accounts after they have been migrated?
Until now, businesses moving from legacy Identity platforms would have to custom-build solutions to address these challenges. Not only is this expensive to develop initially, there is an ongoing cost to maintain and support these in-house developed tools. Furthermore, these custom tools lack the sophisticated capabilities required to effectively perform the required business functions.
"Azure Active Directory B2C is an incredible platform and TheAccessHub Admin Tool extends it to dramatically accelerate a customer's ability to leverage its capabilities and provide consumers with the modern user experience and high level of security it provides," says Jay O'Donnell, CEO of N8 Identity. "TheAccessHub Admin Tool removes all of the friction associated with the customer's legacy platform(s). Businesses are able to realize all the benefits and power of AAD B2C almost immediately, right out of the box."
TheAcessHub Admin Tool for Microsoft Azure Active Directory B2C is available on a subscription basis. For pricing and additional information, visit https://n8id.com/theaccesshub-admintool/ or email sales@n8id.com.
About N8 Identity
N8 Identity Inc. has re-imagined identity governance with an agile, cloud-based and mobile-first solution that brings security and value to organizations of all sizes. N8 Identity addresses the changing needs of modern businesses by intelligently managing access across all devices, in the cloud and in the data center through both its Managed Identity Services and TheAccessHubTM, its award-winning IDaaS governance platform.
Founded in 2000, N8 Identity has always been focused exclusively on building scalable, agile identity governance solutions and has deployed nearly one billion identities to date. Our goal is to help organizations realize the vision of Autonomous Identity Governance™ with AI-driven Identity solutions. Headquartered in Burlington, Ontario, N8 Identity holds partnerships with Microsoft, CA, IBM, Oracle and others. Learn more at www.n8id.com.
Source: N8 Identity
---
Categories: IT Security
Tags: access governance, access management, active directory, cloud-based security, identity access governance, identity access management, identity governance, identity governance platform, microsoft azure
---