My Payentry - Innovation in Employee Self Service
Press Release
•
updated: Jul 25, 2017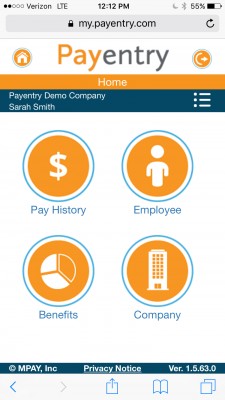 Huntersville, North Carolina, July 25, 2017 (Newswire.com) - MPAY, Inc. software engineers deployed My Payentry, an online employee self-service application, in February 2017. This online employee resource was made available to employees to improve the user experience and provide employees with direct access to critical payroll, benefit, and tax information. Since February, MPAY has continued making enhancements to this application while keeping the same critical security and accessibility features.
Over 40,000 employees have enrolled in My Payentry to date. These employees have access to view and change their payroll, benefit, and tax information on their smartphone, tablet or computer. Additionally, users also have access to their information from companies they have worked for in the past. The ability to view paychecks, W-2s, 1099s, and 1095s on demand makes it easier for employees to file their taxes or apply for a loan.
Companies who enjoy Payentry's all-in-one software have access to this application today. Currently, over 3,200 employers are benefiting from the system improvements. Human Resources managers, in particular, benefit from the functionality of My Payentry because employees have access to input their own data and retrieve their own documents, which reduces duplicate efforts by HR. My Payentry saves employers time through the paperless self-onboarding of employees, hourly and salary employee timesheet submissions, and online benefit enrollment.
My Payentry solves problems for both employees and employers by giving employees access to view and modify their information through a secure channel. Visit www.payentry.com for helpful resources, videos and details about the features and functionality of Payentry and My Payentry.
About MPAY, Inc.
MPAY, Inc. provides payroll and human resource software services to over 60,000 businesses across the United States. Creating long term partnerships with trusted partners is a core strategic focus for MPAY as the company continues to grow nationally. MPAY's flagship product, Payentry, is designed to help employers execute important business tasks related to hiring and onboarding employees, processing payroll and time management, human resources, retirement plans and other features. With locations in Huntersville, North Carolina and Waltham, Massachusetts, MPAY values its US based staff that is dedicated to providing superior customer service and software designed to help employers hire, employ and retain great people. Find out more about MPAY and Payentry at www.payentry.com.
Source: MPAY, Inc
Related Media
Additional Links