MWES Brings Futureproofing and Advanced Automation to Engine Block Cleaning
Press Release
-
updated: May 16, 2019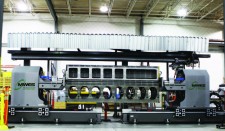 WAUKESHA, Wis., May 16, 2019 (Newswire.com) - When a valued customer came to Midwest Engineered Systems with the need to completely rebuild a key aspect of its engine production line, the company jumped at the opportunity. MWES prides itself on taking on the automation projects others find too difficult and this task was no different.
"There's a lot of processes out there that are relatively easy to automate," Pete Gratschmayr, VP of Sales and Marketing for MWES says. "But our bread and butter are the projects that most integrators shy away from. Size and complexity don't scare us."
The customer's automation system project had a number of uncommon challenges to overcome, not the least of which the articulation of engine blocks whose weights could easily cross 20,000 pounds. The system also had to address the need for greater flexibility and articulation. These aspects are needed to make sure the part is completely cleared of production residue – residue that, left unchecked on either the part or the automation system fixturing, could cause major issues down the road.
MWES engineers used their skills and knowledge earned from developing and implementing other high complexity automation designs to overcome these aspects as well as to build the system with a certain extensibility in mind for both the iterative changes that may happen to current production parts as well as for the accommodation of new engine block designs, ensuring the automation system remains relevant and useful for years to come.
Not only was MWES able to provide a solution that addressed these aspects, but the automation design was able to reduce the cycle time for the process by 30%. This performance increase was in addition to reducing maintenance and system cleaning costs provided by the production cell itself. These results are even more important as the washing process is one of the larger bottlenecks in the entire engine building process.
Read more about the automation process MWES built for the block wash system at https://www.mwes.com/engine-block-wash-automation or contact us at 414-327-0000 or info@mwes.com to learn more about the system and its abilities.
Midwest Engineered Systems Inc. (MWES) is an innovator and leader in complex production systems integration for over 27 years. From small stand-alone systems to large-scale turn-key production lines, MWES custom designs, builds and services automation systems for our customers' specialized needs. The company's diverse industry base includes some of the largest manufacturing companies not only in the Midwest, but across the globe. MWES's extensive industry experience, broad range of product knowledge, and customer-focused approach has made it a leading automation integration supplier with a solid reputation for quality, service, and value.
Source: MIdwest Engineered Systems
Share:
---
Categories: Heavy Machinery
Tags: Automation, Heavy Equipment, Manufacturing
---