Music/Tech Vet Focuses on Pro Wrestling With New Business Launch, Reps Ox Baker Estate
Press Release
•
updated: Apr 8, 2016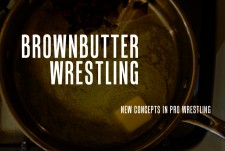 Emeryville, CA, April 8, 2016 (Newswire.com) - ​​​Music industry veteran and entrepreneur Cory "Brownbutter" Brown announced today that he is launching a new business design company devoted to professional wrestling under the name Brownbutter Wrestling.
Brownbutter Wrestling is conceived to utilize the opportunities provided by technology and modern business acumen to maximize revenue potential for wrestling promotions and wrestlers alike (working, retired and deceased), and to improve and enrich the modern fan experience. "I've been a pro wrestling fan my entire life and there has never been a better time to be a wrestling fan than now," said Brown. "Professional wrestling is ripe for analysis, strategic optimization and development and Brownbutter Wrestling is designed to do just that. What WWE has done to lead the charge in sports entertainment's evolution is nothing short of revolutionary and astonishing, and the work ethic and performance the entire industry executes every day of the week for our entertainment is humbling and inspirational. I aim to pay tribute to all of it. By developing concepts first rather than starting our own promotion or focusing on a specific product, we can bring a new perspective to the industry and new ways for all levels of wrestler and promotion to earn."
The first five products & services being developed by Brownbutter include:
Wrestler Estate Management for the families of deceased talent, in order to more effectively promote and manage the legacies of pro wrestling's heroes.
Revenue Strategy Management for contracted and independent active talent as well as retired talent and promotions, analyzing every asset in their arsenals with new methods to earn.
Merchandising Image Management, a versatile services offering for both talent and promotions that includes merchandise design, license management, marketing, fulfillment, event merchandising and/or accounting based on the clients' individual needs.
The

Brownbutter

Wrestling Image Library, is the first of its kind in the world, encompassing thousands of photos from the private collections of wrestlers, their families, promotions, wrestling magazines and fans. The library will tell the history of wrestling through images and encourage & enrich the exploration of that history by making these important archival collections available for licensed usage. Launching autumn 2016.
TV Production:

Show's

Over, with A.J. Kirsch: Wrestling finally gets its own comedy news show, starring WWE Tough Enough alum and

Hoodslam

master of ceremonies, A.J. Kirsch. Currently in development.
Brownbutter Wrestling has also announced the Douglas "Ox" Baker estate as their inaugural estate mgmt. client, in partnership with Ox's son & heir. Ox Baker was one of wrestling's greatest heels of all time, terrifying fans the world over throughout the 1970's & '80's with his imposing 6'5" stature, trademark sinister eyebrows and moustache, booming growl and deadly "heart punch." He performed in several films of the era, including "Escape from New York" with Kurt Russell & Isaac Hayes, but was most notorious to fans for the post-match deaths of two of his opponents, and for starting a riot during a match with Ernie Ladd in Cleveland in 1974. Ox Baker would've been 82 years old on April 19. He passed away in 2014.
Cory Brown will make his first public appearance with Brownbutter Wrestling at the Cauliflower Alley Club reunion in Las Vegas this coming week (4/10-4/13).
Related Media
Tags
Additional Links