Music Duo D_XTER FOREVER Teams Up With Sunglasses Brand Wavey, Creating Timeless Shades for the People of Planet Earth and Beyond
Press Release
•
Sep 22, 2022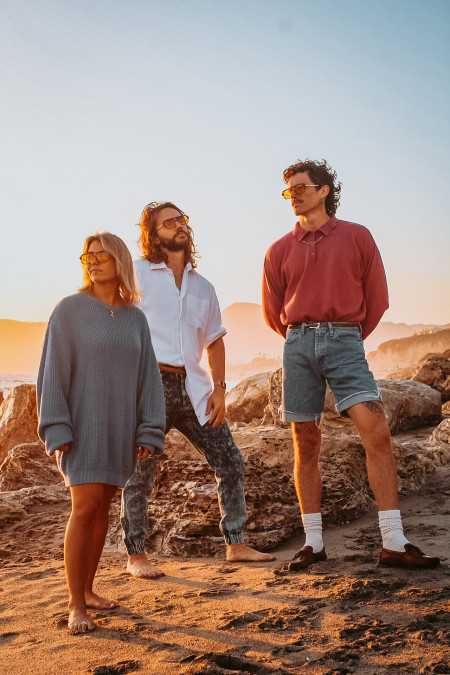 LOS ANGELES, September 22, 2022 (Newswire.com) - It was only a matter of human-constructed time before neo-80s-pop sensation D_XTER FOREVER collaborated with the iconic sunglasses sensation known as Wavey. Founder and Sunglasses Queen Ashley Senecal holds a special place in her heart for all zealous creators, and her brilliantly affordable sunglasses invite anyone and everyone to "radiate with style."
For their debut collaboration, Ashley of Wavey and Dyl and Dex of D_XTER FOREVER made no attempt to reinvent the wheel. Instead, the three dedicated dreamers paid homage to a timeless look. There is a subtle strength found in the square frames, softened just enough around the corners to give the wearer an air of nothing-to-prove. Like a Joshua Tree turtle basking in the afternoon sun, the frames are grounded by their classic brown and yellow tortoise shell pattern.
When picking lenses, Ashley, Dex and Dyl decided to steer the view away from hues of grays and blues. In an attempt to feed two birds with one scone — to brighten one's day and keep the sun rays mellow, this creative trio resolved to make the lenses yellow. Put it all together and one is left with the perfect pair of sunglasses, sending any hot fit into the next dimension.
Dex originally came across Wavey sunglasses while on an epic adventure through Joshua Tree National Park, California. Amid his escapades, Dex became desperate to find fashionable light-diffusing eye protection to combat the intrusive rays of the high desert sun, eventually leading him to stumble into the impeccably curated Mojave Flea Trading Post. It was here he first saw Wavey's Mojave Collection, and it was love at first sight.
With their shared appreciation for pops of color, a drive to follow creative passions, and an understanding that life's greatest adventures come from building and fostering a supportive and motivated community, D_XTER FOREVER and Wavey are kindred spirits to say the least.
When asked what she thought about working with Dyl and Dex, Ashley commented, "I could feel their excitement and joy for creating in their first email. There was no question they were the kind of people I wanted to collaborate with." There was an attempt to get a comment from Dyl about the design process, but he was deep in his headphones working on what we can only imagine to be an epic neo-80s-pop synth melody. In his stead, Dex was tracked down and, while staring off into the sunset, mumbled, "Sometimes when I wear Wavey sunglasses, I wink at the sun and the sun winks back."
Wavey x D_XTER FOREVER sunglasses are available online now.
Source: D_XTER FOREVER LLC