Music & Cannabis - a Match Made in Boston
Press Release
•
updated: Mar 10, 2020
In response to prolific marketing restrictions imposed upon the state's fledgling industry, Boston-based JamTown Music Co. offers exclusive partnership opportunities to qualifying cannabis retailers.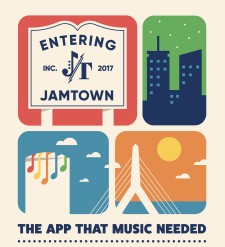 BOSTON, March 10, 2020 (Newswire.com) - Unless you've been living under a rock for the last 12 months, it is almost impossible not to notice the hype around the legalization of recreational marijuana in Massachusetts. Now, in the thick of the movement, more and more of these retail locations continue to open doors throughout the state: so why haven't we been bombarded with cannabis-themed radio and tv advertisements?
The answer is simple. Cannabis business owners are forced to follow extremely restrictive guidelines that prohibit the advertisement of their business in almost all mainstream media sources. Along with restrictions on traditional media, marijuana-related businesses are absolutely prohibited from advertising on social media platforms such as Facebook and Instagram.
"JamTown proudly supports the marijuana movement and the rapid-growing industry. The current marketing guidelines for these businesses, while necessary, definitely put these owners at a disadvantage." - says David McGrath, founder of JamTown Music Co.
The main focus of these restrictions is quite obvious and justifiable: preventing the marketing of marijuana products to minors in the Bay State.
"JamTown's user-base consists of thousands of Massachusetts residents, ages 21-60, who support the local music scene. It's a safe bet that a large portion of this demographic is simultaneously supporting the Massachusetts cannabis industry. The mission, through obtaining these partnerships is to help music-loving JamTown users find local dispensaries they might not even know about."
Partnership packages will include a laundry list of perks, but the primary benefit will be customized pop-up ads displayed to users directly on the "JamTown - Local Live Music Finder" mobile app. In addition to in-app advertising, these businesses will be promoted at live events, through digital content, and more.
To learn more about partnering with JamTown, contact founder & CEO David McGrath.
Source: JamTown Music Co.
Additional Links