Museum Masterline Batman: Hush (Comics) Batman Black Version by Prime 1 Studio Available for Pre-Order
Press Release
•
updated: Aug 21, 2019
"I made a promise on the grave of my parents to rid this city of the evil that took their lives. By day, I am Bruce Wayne, billionaire philantropist. At night, criminals, a cowardly and superstitious lot, call me... Batman."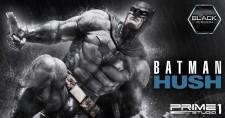 TOKYO, August 21, 2019 (Newswire.com) - Here is the new statue by Prime 1 Studio - a Japanese company designing and manufacturing collectible products.
Prime 1 Studio is proud to present the first product of MMDCBH-01BL: Batman Black Version from DC Comics Batman: Hush.
Batman: Hush is a 2002-2003 comic book story arc that published in the Batman monthly series. The story depicts a mysterious stalker, head wrapped in bandages, called Hush, who seems intent on sabotaging Batman from afar, and utilizes many guest appearances by Batman villains.
Inspired by the cover art of Jim Lee, Batman measure approximately 29 inches tall. There are two alternate portraits with interchangeable hands sets included.
It is a must-have for all Batman: Hush fans.
Specifications:
Statue Size approximately 29 inches tall [H:74.3cm W:60.7cm D:56.8cm]
One (1) designed theme base
Two (2) alternate Portraits
One (1) interchangeable left-hand fist
One (1) interchangeable right-hand holding Batarang
One (1) interchangeable pair of hands holding Batrope (Batarang with rope)
Details:
Product Name: Museum Masterline Batman: Hush (Comics) Batman Black Version
Product Price: $999.00 US
Approximate Release Date: August 2020 - December 2020
Material: Polystone and other materials
Copyright: BATMAN and all related characters and elements © & ™ DC Comics. WB SHIELD: TM & ⒸWBEI. (s19)
URL
https://www.prime1studio.com/dcbh-batman-mmdcbh-01bl.html?utm_source=en_pressrelease&utm_medium=CPC&utm_campaign=en_PR_BATMAN_HUSH_black&utm_content=en_pressrelease
Source: Prime 1 Studio
Related Media
Related Files
Additional Links