Multimedia and Physical Theater Piece "A House of Skin and Bone" Tackles Experiences of Addiction and Depression
Press Release
-
Apr 6, 2016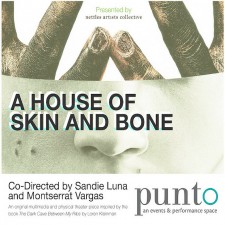 New York City, April 6, 2016 (Newswire.com) - ​Nettles Artists Collective will hold a special presentation of the play A House of Skin and Bone inspired by the book The Dark Cave Between My Ribs by Loren Kleinman. The piece invites audiences to witness snapshots of a complex life--including accounts of abuse, grief, suicide, love, and loss rendered poetic yet accessible, through the use of physical theater, video projections, and an original score.
This presentation's goals are to raise funds and create awareness prior to the official debut of A House of Skin and Bone at the end of National Poetry Month and the beginning of National Mental Health Awareness Month in 2017.  It is co-directed by Montserrat Vargas and Sandie Luna and produced by Nettles Artists Collective as part of Punto Space's initiative #PuntoGivesBack which supports artistic organizations creating social change. Nettles' mission is to imbue the American stage with authentic voices. This past March, their play Apple of My Eye was presented at the UNICEF. This is the first time that Kleinman's writing has been transformed into theater, and she decided to choose Nettles Artists Collective because of their mission and expertise devising new works through the use of physicality.
A House of Skin and Bone will resonate with millennials and younger generations who have experienced first-hand traumatic events and are coping with the aftermath. This piece is also a tool that serves to momentarily access the world of those living with depression and addiction. In addition, it is geared towards artists who are interested in an exploration of alcoholism, mental illness, depression, and abuse in non-conventional ways that challenge preconceived notions of victimhood.
Sandie Luna, co-director of A House of Skin and Bone and artistic director of Nettles Artists Collective, says, "The play will attempt to call depression and addiction by their name. Depression and addiction are more than a daily struggle. They can encompass one's entire being from minute to minute."
Co-director Montserrat Vargas says, "I've been always intrigued and attracted by the performative creation with non-traditional text, and Loren Kleinman's poetry fits perfectly with the physical and multidisciplinary approach Nettles Artists Collective. A House of Skin and Bone will transform the stage into a playground of sensations. Poetry will lead the audience into their inner voices expressed through the performers' bodies and multimedia staging elements."
A House of Skin and Bone will take place on Thursday, April 28, 7pm, Friday, April 29, 7pm, and Saturday, April 30, 2pm at Punto Space, 325 West 38th Street, Storefront #3, New York, NY 10018. 
For more information, visit http://bit.ly/HouseofSkinandBone or contact press@ahouseofskinandbone.com. 
Share:
---
Categories: Performing Arts, Theater, Arts and Entertainment
Tags: arts, performing arts, poetry, theater
---