Multifamily Leadership Announces Their 2022 Multifamily Event Lineup
Press Release
•
Oct 28, 2021
Every event produced by Multifamily Leadership focuses on innovation, investments, leadership, and technology and how those four ideas converge to create a bigger impact for leaders, both professionally and personally.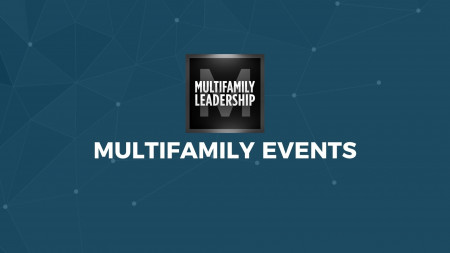 SCOTTSDALE, Ariz., October 28, 2021 (Newswire.com) - Multifamily Leadership, producer of the highest-level in-person and virtual events in the industry, is excited to announce the lineup of multifamily events planned for 2022. These events are intended for multifamily professionals to design the future of multifamily through collaboration and expert thought leadership.
Every event produced by Multifamily Leadership focuses on innovation, investments, leadership, and technology and how those four ideas converge to create a bigger impact for leaders, both professionally and personally.
"Work, as we have known it, will never be the same. Organizations learned over the last 18 months that they can be effective, productive, and revenue-producing, without having people all at the office. However, what people enjoyed most about working at the office was those impromptu coffee meetings or the quick cocktail with a colleague after work. Because of that, people will find a new way to foster great connections. Brands hiring sales reps to introduce products certainly won't be making home visits to clients, our event platform will shape new experiences for these companies to come together," according to Patrick Antrim, CEO of Multifamily Leadership.
2022 events produced by Multifamily Leadership:
The Multifamily Investment Summit is designed to bring together deal makers, capital partners, innovators, and inspired entrepreneurs from all over the world. Top Multifamily Investors attend to better understand financing, due diligence, proforma deal analysis, syndications, developments, and the capital stack. During the summit, attendees will be able to learn from those thriving in the industry and will be empowered by resources and knowledge to become a better Multifamily Investor.
The Multifamily Innovation® Summit is where industry professionals will converge to design the future of multifamily and together collaborate with informal talks about managing the apartment of the future, shifting paradigms on the future of leasing and the power of leveraging people as their last real competitive advantage. Expert content will be curated specifically for busy executives who just don't have the time to research and vet every new technology on the market or for those who cannot attend every multifamily trade show or conference.
The Multifamily Women® Summit is the number one, premier industry event for women in multifamily who want to strengthen existing relationships, forge new connections, and learn from each other and those who are winning in big ways. This event is unlike any other and brings together women from all over the country who are focused on a bigger, better future for multifamily. Not only is there thoughtfully curated expert content, but also sessions dedicated to helping women reach their highest potential not only in their professional lives but also in their personal lives. This is an experience that cannot be missed.
The Multifamily Awards Show is where the Top 50 Best Places to Work in Multifamily® are announced and celebrated. This highly anticipated annual list is the go-to authority for companies looking to attract, acquire, and retain top talent in the industry. Companies who rank on this official list experience exponentially less turnover and much higher rates of employee engagement year over year. Even companies who participate, but do not rank, experience these benefits as they can compare their own data with industry benchmarks and make specific, actionable changes to increase the wellness of their organization.
"Every event we produce and every interaction someone has with our brand must in some way make an impact for the better. Our intention is to curate the highest quality thought leadership throughout our platform and make it accessible to everyone in the multifamily industry. All of our events are unique, but each and every one of them will empower our attendees to make better decisions for their business and for their lives," says Carrie Antrim, Co-Founder of Multifamily Women®.
There are multiple ways to get involved with all of the events produced by Multifamily Leadership, including individual sponsorship opportunities as well as options for those brands wanting to make a bigger impact in the industry.
Registration is open for all 2022 events and can be secured via each individual event website, or on multifamilyleadership.com/events. Seating is limited at each event and will sell out.
Press Contact:
Patrick Antrim
patrick@multifamilyleadership.com
(480) 780-2611
Source: Multifamily Leadership