MultaBafta's New Big Project - Redesign of multabafta.com
Press Release
-
updated: Jul 28, 2017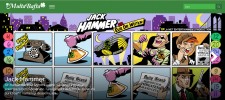 BUCHAREST, Romania, July 28, 2017 (Newswire.com) - The owners of the website https://multabafta.com decided to make some improvements on it because of so many reasons why. MultaBafta is known as one of the most successful gaming resources in Romania. According to the comments of MultaBafta representatives, they added new functionality so that customers would have better product usability.
The redesigning team of MultaBafta wanted their product to become mobile-friendly and to keep everything up-to-date. After conducting a survey earlier, they received the results that undoubtedly showed the target audience being unsatisfied with MultaBafta's design and structure in general. That's why the team made an important decision – to redesign the site so everyone would feel comfortable. Right after that brand new strategy of website renovation was set, the results of 3-month work right now are available for checking and testing right now.
The precise results of renovation
The first thing which is worth mentioning is that online products' section now appears in a new image. In this section, you can find a comparison table with each product features. Also, customers can notice that the rating of each game on our website is also available there. Furthermore, the page with online products' reviews changed as well. Now all the information there is much more structured. Because of that users can learn all the info surprisingly fast. MultaBafta's website seems modern and fresh thanks to this redesign. Besides, the front-page was modified a little.
What else should be admitted is that categories of slot-machines were improved as well. Furthermore, visitors of MultaBafta still can read the latest gambling news. The site guests can be sure that multabafta.com provides them with all the new amusements. Some more small developments were attached just to shake things up. It seems like MultaBafta looks and operates much better now.
About MultaBafta
It was just a local Romanian gaming website. No wonder because multabafta.com focuses on its target audience – Romanian-speaking gamblers. Anyone can play a trial version of slots for free. Right after that, the customer makes an arrangement – play for cash or look for something else. Moreover, customers can get known with different analytical materials. Reading blog columns or thematic articles helps to improve gambling skills. The target audience of MultaBafta consists mostly of people between 18 and 45 years of age that are totally into online gaming. 
Source: multabafta.com
Share:
---
Tags: casino games, gambling, online casino
---