Mulberry Partners With Brij to Help Omni-Channel Brands Upgrade Their Customer Experience
Press Release
•
Mar 24, 2022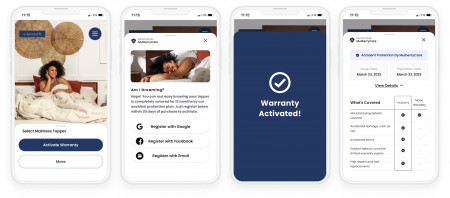 NEW YORK, March 24, 2022 (Newswire.com) - Mulberry, the customer-first product protection company, and Brij, the one-touch product registration platform, today announced a partnership to enable stronger relationships between omni-channel brands and their customers.
The partnership between Mulberry and Brij will drive more customers to register their products with its manufacturer by providing a seamless warranty registration experience. The integration enables brands to offer short-term accident protection plans to customers activated by a simple scan of a QR code. Customers can also check the status of their warranty, purchase longer-term protection, and view relevant content such as set-up videos and care instructions through the QR code experience.
Viscosoft, the global sleep company and leading mattress topper provider, is the first brand to leverage the partnership between Mulberry and Brij. Customers who purchase through 3rd-party retailers like Amazon or Walmart and register using the Brij QR code will now be rewarded with a free 1-year accident protection plan, powered by Mulberry. The Mulberry protection plan covers incidents including rips, tears, and spills and allows customers to purchase longer-term product protection after registration.
"Many of our customers purchase Viscosoft products from our distribution partners, and as a result, don't engage with the warranty program and customer service that Viscosoft wants to provide for them," said Jason Alpern, VP of Marketing at Viscosoft. "The Mulberry and Brij integration is incredibly valuable to help us deliver better service to our customers regardless of where they purchase our products."
"We're thrilled to be partnering with Brij to help brands create a consistently delightful customer experience across channels," said Chinedu Eleanya, CEO of Mulberry. "The integration represents a new way for us to deliver Mulberry peace of mind to shoppers whether they are purchasing our partners' products online, in-store, or through 3rd parties."
"Brands today are always looking for ways to connect more effectively with their customers," said Kait Stephens, CEO of Brij. "Connecting Brij's seamless product registration platform with Mulberry's product protection plans will help brands increase product registrations and deliver a better experience to their customers."
About Mulberry
Mulberry is creating a better product protection experience for shoppers and brands. Mulberry's people-first platform offers affordable plans, better coverage, and a great claims experience for online shoppers. Shoppers can get 12 months of free MulberryCare accident protection wherever they shop online with Mulberry's Chrome browser extension. Mulberry offers flexible integration options for brands to embed protection plan offers seamlessly into their customer journey, increasing customer engagement and revenue. Learn more at www.getmulberry.com.
About Brij
Brij is powering one-touch product registration and reorder for innovative brands with the simple scan of a QR code. A digital extension of product packaging, Brij connects brands directly to their consumers, even those lost when selling through third-party retailers. With Brij's Shopify app and drag-and-drop builder, brands can create beautiful product experiences in minutes and track engagement data at the SKU or even unit level. Learn more at www.brij.it.
Source: Mulberry