MT&W About to Launch Affordable Vintage Style Watch With Aged Patina Dial on Kickstarter
Press Release
•
Dec 15, 2021
Hong Kong-based modern vintage watch brand will offer the Eclipse Vintage Chronograph to Kickstarter wristwatch enthusiasts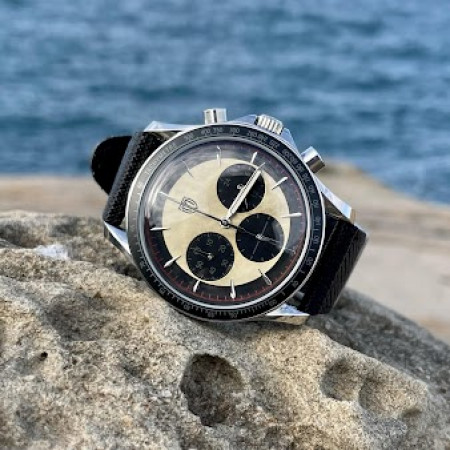 HONG KONG, December 15, 2021 (Newswire.com) - MT&W, a modern vintage watch brand from Hong Kong, is about to launch a vintage-style watch with an aged patina dial on Kickstarter. The prelaunch campaign for the Eclipse Vintage Chronograph now live at https://mtwcampaign.com is introducing the soon-to-be-launched watch and its premium features that are matched with an affordable price.
"We've created a wristwatch that reinvents the classics of the world of racing cars in the 1970s, but adding modern craftsmanship and advanced features to a unique watch that people will be able to buy for a surprisingly low price," said Ted Leung, the Co-Founder of MT&W.
The watch has a high-end hardened dome crystal, mechanical quartz movement, and the brand's signature vintage patina dial. "In a nutshell, this aims to be a timeless timepiece that is made to last, designed to impress, and built to make wristwatch enthusiasts proud to wear it," the brand representative said.
The most emblematic feature of the Eclipse Vintage Chronograph is its classic dial. The base material is a dull matte black, which is only visible around the outside. The bulk of the dial is coated with MT&W's signature patina effect, which is handcrafted, making each watch unique.
The brand's watchmakers use a "patination" technique that involves a special combination of chemicals being used to treat the dial. This special combination varies according to the desired color that the watchmakers want each patina to have. "While the process is the same, the end result and color are always different," MT&W's Co-Founder detailed.
A bezel composed of a 40mm width combined with a vintage Tachymetre design of the 1970s, a 316L Stainless steel case with a double-curved lug polished by hand, and a case with a screw-down back that makes the watch easy to service in the future, are other distinctive features of the watch.
The Eclipse Vintage Chronograph will be available to Kickstarter backers in six models and colors: Eclipse, Panda, W Panda, Oceanic, Racing Green, and Steel Gray.
About MT&W
MT&W is a creator of modern vintage timepieces for a new generation of vintage enthusiasts. The company's timepieces are inspired by the iconic style of 1970s sports car racing, where time was everything and a split second meant the difference between victory and defeat. MT&W team gathers experts in multiple industries from Hong Kong, Italy, and the UK.
Ted Leung, MT&W Co-Founder, can be contacted via info@mtw.watch. The website of the campaign can be visited at www.mtwcampaign.com.
Source: MT&W