MSD Announces Pitch Tank Winner During Second Annual Healthcare Innovation & Technology Conference, Better Together
Press Release
-
updated: Feb 12, 2018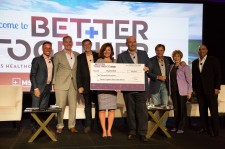 STOUGHTON, Mass., February 12, 2018 (Newswire.com) - Medical Specialties Distributors (MSD) announces Snap Medical as the winner of the second annual Pitch Tank event held during its Healthcare Innovation & Technology Conference, Better Together, Jan. 22-26 in Miami Beach, Florida.
During MSD's second Annual Pitch Tank, six entrepreneurs took the stage to present the next new healthcare innovation and technology solution to a panel of business experts.  Pitch Tank contestants included the following start-ups from all over the U.S.:
The participants were all amazing. Congratulations to this year's winner and I'm looking forward to next year's Pitch Tank.
·        
Pharma Pax
-
a new method for administering controlled substances to patients through a device called "Pax" that is a disposable cap that fits a standard plastic pill bottle to control the dispensing of medication.
·         Realtime Senior Living- provides real-time ability to search for senior living facilities by phone, tablet or through our online portal.  Case managers, social workers, families can search by city, zip, care provided, room type, price, and availability. 
·         Snap Medical- EpinephrineSnap-V is an FDA registered all-inclusive emergency anaphylaxis kit that is a clinically sound, cost-effective solution for healthcare providers as an alternative to high-cost epinephrine auto-injectors.
·         Sunrise Health- Mobile platform for text-based group therapy that uses AI to scale existing enterprise providers via a B2B SaaS model. For patients, we marry the efficacy of therapy with the persistence of peer support to offer a stigma-free support system from anywhere, at any time.
·         Metastatic AI- a cloud-based artificial intelligence platform that can use biopsy data to diagnose breast cancer with over 99% accuracy in less than one millisecond. In the future, lab tests, images, and genomic data will be included to find a personalized treatment for the patient in milliseconds.
·         Care Angel- Angel, the world's first AI & Voice-Powered, Virtual Nurse/ Health Assistant. She reaches out via low tech, yet highly engaging and Clinically Intelligent Phone Conversations, Care Calls.  Angel enables the most effective, efficient and scalable way to engage monitor and manage large, high-risk/ high-cost aging, chronic and post-discharge populations at the lowest cost, starting with a simple phone call.
Pitch tank judges included Shark Tank cast member Kevin Harrington, MSD's own Board Director, Christos Cotsakos, Ph.D., Chairman and CEO of Pennington Ventures, LLC, and former Chairman and CEO of E*TRADE, Steve Metzger, healthcare board member to the Rand Corporation and healthcare investor , Dan Greenleaf, President and CEO of BioScrip, Betsy Atkins, CEO of Baja Ventures, Board Member and Advisor and Dr. Javeed Siddiqui, Co-Founder and Chief Medical Officer of TeleMed2U.
After much debate, the judges named Snap Medical the winner of the Pitch Tank Competition and Tom Burke, MSD's CEO awarded them with a $10,000 cash prize. "The participants were all amazing. Congratulations to this year's winner and I'm looking forward to next year's Pitch Tank," says Tom Burke, CEO. Dates to be announced soon for MSD's 2019 Healthcare Innovation and Technology Conference.
ABOUT MSD:  MSD's mission is to make healthcare work better for our patients, families, communities and one another. MSD and its portfolio brands, First Choice Medical Supply and Attentus Medical Sales, Inc., delivers business process outsourcing solutions in the form of supply chain, medical device management and technology solutions, VerbalCare and OneTrack, which enable post-acute care healthcare providers to strengthen their businesses and to focus on the best possible outcomes for their patients. MSD's portfolio of services includes formulary development, online ordering, equipment management and tracking, patient direct delivery programs, and an accredited ambulatory pump program serving the oncology marketplace. MSD is an authorized distributor for most of the healthcare industry's leading group purchasing organizations and is also ISO 9001:2008 & ISO 134585:2003 certified. To learn more about MSD visit www.msdonline.com.
Source: Medical Specialties Distributors
Share:
---
Categories: Healthcare, Healthcare Technology, Distribution, Home Care
Tags: Medical Specialties Distributors, MSD Technology, MSD's Healthcare Innovation and Technology, Post-Acute Care
---