MRz: Announces That Its Next Generation Ai Smart UHD Digital Audio Player, the 'MRz-DAP'
SMALL and Unlimited features, MRz is bringing innovative technology and imaginative ideas together to redefine the way we live our lives.
Press Release
-
updated: Sep 3, 2018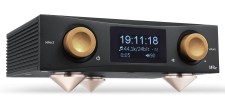 LONDON, September 3, 2018 (Newswire.com) - One Signature Sound: MRz-DAP Ai UHD Pushes the Boundaries with the Ultimate Personal Audio and Home Entertainment Hub
·  Made up of pure audio out, connected any devices become music server with home music library
·  Delivering exceptional sound quality with High-Resolution Audio
·  Engineered with meticulous attention to detail using the highest quality materials 
SMALL and Unlimited features, MRz: announces that its Next Generation Ai UHD Smart Digital Audio Player, the "MRz-DAP Ai"
The MRz-DAP Ai is milled from an aluminium and boasts Ai Operation System and ESS SABRE 32bit Reference DAC (Digital to Analogue converters ES9028Q2M) as well as 16GB of internal memory that's expandable to 512GB - nearly half a Terabyte.
MRz-DAP Ai has placed a particular focus on tailoring and enhancing sound quality for this model. To that end, selected components – including high-quality film capacitors – have been employed after careful and extensive listening. The result is a DAP that conveys an uncommon level of rich musicality.
Remarkably at its lower price point (USD199 on Kickstarter), the MRz-DAP Ai also comes with a Music Hub connection input/output, allowing it to make convenience with a home entertainment system to popular for everyone.
As you'd expect, the MRz-DAP Ai UHD supports an extensive range of digital audio files including MQA. Formats that can be handled include DSD, FLAC, ALAC, WAV, AIFF (up to a maximum of 768 kHz/32-bit), AAC, and MP3. A dual digital clock arrangement (using independent 44.1kHz and 48kHz clocks) drastically reduces jitter noise. Upgrade your home stereo system to Hi-End HiFi with digital library system in time.
The MRz-DAP Ai incorporates Wi-Fi to allow streaming from services such as Tidal and TuneIn (support for further streaming services – including Tidal MQA).
Totally Wireless Control Volumio thanks to its slick Web-based control interface. Use it with any browser, with any device: Mac, Pc, Android, iOS or anything with a browser. Everything from configuration to Playback is just a fingertip away. MRz-DAP Ai as we as multi-room speaker system supported. simplifying day-to-day use and operation.
Expanding video options yet further, Thanks for Android Ai the Upgradeable operating system can become AV entertainment centre with 4K video and UHD Hi-Res audio out. UHD 4K Video Player and UHD Hi-Res Audio Player and Game console all in one.
Optional Qi wireless charging function on top, Never worried about batteries low while song playing.
www.MRzDAP.com
Source: Kickstarter
Share:
---
Categories: Music, Consumer Electronics
Tags: DAC, DAP, Hi-Res, iPhone, Kickstarter, Music
---