MPOWERD® Launches Initiative to Teach Local Students
Using their "Build Your Own Luci" kits, MPOWERD launches ENLIGHTEN to teach NYC students about solar technology
Press Release
-
updated: Jan 29, 2019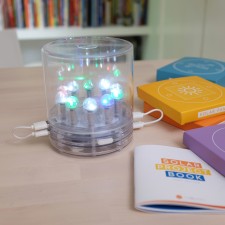 BROOKLYN, N.Y., January 29, 2019 (Newswire.com) - MPOWERD has launched ENLIGHTEN, an initiative to teach local NYC students about solar power, starting with the Dock Street School in DUMBO, Brooklyn.
Located just one block away from each other, MPOWERD and the Dock Street School teamed up to bring MPOWERD's solar technology expertise and the middle school's STEAM focus together (STEAM adds Art to traditional STEM disciplines).
Using their one-of-a-kind BYOL (Build Your Own Luci) kit, MPOWERD employees created a lesson plan and spent a full class period brainstorming disaster relief inventions, constructing the BYOL solar light, and discussing MPOWERD's mission to provide the world with clean, affordable light.
"The hands-on nature of the activities really caught the imagination of the students, and the work the MPOWERD team did to contextualize the social mission of the company and the humanitarian possibilities of the lights made the activities come alive in a really powerful way," Dock Street School Technology teacher Sebastian Braithwaite says. "The BYOL kits are super, and they are backed by a team that really understands how to engage students."
Following the success of the pilot lesson at the Dock Street School, MPOWERD has officially launched ENLIGHTEN to further connect with local students by creating adaptable lesson plans and curriculum to bring to other schools in the area.
This initiative will take MPOWERD into classrooms across the city, teaching young students about the importance of solar power while also educating them on the mechanics behind the technology.
"We developed the BYOL kit to encourage young people to stoke their curiosity, engage their minds, and develop critical thinking skills," MPOWERD Associate Director of Educational Sales Joe Rapport says. "We see a bright future for the program, especially as we continue to develop more STEM-focused products and designs."
With this educational initiative, MPOWERD aims to engage students' curiosity, foster scientific minds, and emphasize the future impact of investing in clean energy.
BYOL is featured in Follett's Titlewave educational resources (referred to as Luci STEM) and available for purchase at Barnes & Noble here.
About MPOWERD: MPOWERD is on a mission to transform lives with thoughtfully designed, clean technology. From concept to creation, every detail of the business is deliberate. As a Benefit Corporation, MPOWERD sets strict standards, ensuring that its work enhances both society and the environment. The company's innovative products give people the power of self-reliance as well as moments of wonder—because everyone deserves to be empowered and inspired regardless of where or how they live. Learn more at https://mpowerd.com.
# # #
Media Contact
Barella Kirkland
press@mpowerd.com
718 473 9578
Source: MPOWERD, Inc.
Share:
---
Categories: Educational Technology, Green Industries
Tags: green tech, smart home, solar technology, STEAM, STEM
---