MoveWheels New Live Chat Feature
Press Release
-
Feb 6, 2016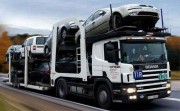 GREEN COVE SPRINGS, FL, February 6, 2016 (Newswire.com) - MoveWheels company today presented the live chat on their official website movewheels.com. Since the number of customers is growing constantly and some of them are living outside the US, the company decided to add a Live Chat facility to enable everyone to speak with their agents directly, and get answers to any questions related to car transportation or any other similar issue.
MoveWheels transports cars across the US for more than eight years. They have a large fleet of car carriers around the country. All services they provide are fully insured and licensed. MoveWheels is able to ship a car of any size and model, from casual vehicles to high-end and custom antique vehicles.
With so many issues involved in the car transportation, it is impossible for any outsource call center to provide a quality information. By giving the link to an actual MoveWheels agents, the company makes it possible for the customers to get any in-depth information they may need to know to get the best shipping experience. New chat feature makes it quick and easy to contact shipping agents and to make sure that each conversation will result in a positive, trust-building interaction.
There is a small "Chat" tab in the bottom right corner of the screen on the MoveWheels website. It means that one of their knowledgeable shipping agents is online and ready to help. This feature is very straightforward and absolutely free to use – their staff are usually on hand to answer any car transportation question in regards to any specific requirements. And when agents are offline, it is possible to leave an offline request that will be answered as soon as possible. Live chat gives ability to operate more efficiently so that no customer is unsatisfied. This 5-star customer support tool connects the customers to a MoveWheels staff directly 24/7.
Shipping a vehicle with MoveWheels is so easy that it can be done from any device either it is a smartphone, tablet or PC.
Chatting with a live agent, customers can:
- get a quote,
- book their move
- track a vehicle online
- even render the payment.
 It is all could be done from anywhere in a few clicks. A speedy chat to answer any car transportation questions right away!
Share:
---
Categories: Transportation and Logistics, Transportation, Shipping
Tags: boat shipping, car delivery, car transportation, motorcycle delivery, movewheels
---