Motorino E-Cycles, Canada Announces Its New Foldable Electric Bike, the Motorino MTf
The lightest electric folding bike available at Motorino-Electric
Press Release
-
updated: Apr 26, 2017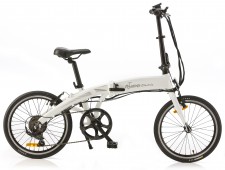 Vancouver, Canada, April 26, 2017 (Newswire.com) - Motorino e-Cycles – Vancouver today announced the addition of the foldable electric bike, the Motorino MTf, to its electric bike fleet. The Motorino MTf has the following features:
The lowest weight in the foldable electric bike class in the e-bike industry — a mere 32 pounds
A concealed lightweight lithium battery weighing 3 pounds and providing a range of up to 50 km
Easy access to concealed battery within the frame, allowing the user the option of charging the battery within or without the bike
5 levels of pedal assistance along with a proportional power control throttle
Shimano 5 gear system
80 psi high-pressure racing tires
Quick latch system allowing the bike to be folded in a few seconds
Equipped with an external USB port for charging electronic devices on the go
Fully adjustable seat and handlebars for users of all heights
The electric drive of Motortino MTf features 250W high-speed geared drive motor. In combination with the 20" racing tires, this motor is capable of effortlessly propelling up to a 220-pound rider on roads as steep as 15%. The smaller-size wheels and the light weight of the bike make it practical to use it even without the motor. With five pre-set levels of assistance or by proportional throttle, the assistance of the motor can be triggered automatically by pedaling or 100% controlled by the tip of your thumb.
57% of the revenue of bike sales for 2016 in the Mother Of All Bikes country - Netherlands - came from e-bikes sales, while conventional bikes hit the lowest point in 30 years
The 8AH battery pack is assembled with high-energy Lithium-Ion LG cells, providing 50 km range on single charge and reducing the total bike weight. It can be upgraded to 12AH pack that would increase its range by 50%. The battery is locked inside the frame and can be charged on the bike or removed.
The Motorino MTf also comes with a traveler's case, ensuring that the bike makes for an excellent companion on all of your traveling, exploring or camping trips. The batteries are also extremely lightweight, meaning you can always carry an extra one or two with you that will add another 70km of range to your trip.
The Motorino MTf is available for immediate sale online or at any Motorino dealership across North America for $1,490 USD.
More information at www.motorino.ca
Watch us on YouTube
About the company
Motorino is a Canadian-registered brand of electric bicycles, scooters and motorcycles, first introduced to the Canadian market in 2003. With almost 15 years of constant development and improvement, Motorino e-cycles have evolved into a very reliable and practical means of transportation and built a reputation for superior design, performance, quality and customer support along the way.
Source: Motorino Electric
Share:
---
Categories: Green Industries, Recreation and Sports, Tourism, Travel, Transportation, and Hospitality News, News
Tags: commuting, e-bikes, electric bicycles, electric folding bike, folding e-bike, Green transportation, urban commuting
---
Related Files
Additional Links