Motivational Photography Finally Hits the Market
Press Release
•
updated: Oct 27, 2017
How a new, hit business plans on tossing the photography world on its head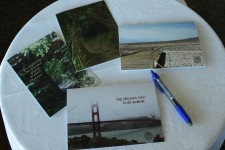 Chandler, AZ, October 27, 2017 (Newswire.com) - ​​​Raejean Roberts, Owner, photographer and designer of Picturesque Muse, discovered her passion for photography at just seven years old. One of her earliest memories were of her exploring old trains in Japan with her dad and the photographs he took that day. She specifically remembers the camera around his neck and all the happy times they shared. In college, she took a photography class and learned about composition and the mechanics of photography. Years later, Roberts was able to get her hands on her own camera, and it reignited her love and passion for photography. She now finds her solace outdoors, camera in hand while she explores mountains, deserts and beaches whenever the opportunity arises. She's also experimenting with more urban locations.
Roberts loves shooting nature photography. She loves having the ability to see objects in a way that no one else does. One day, while browsing online, she found digital prints with inspiring words overlaid onto them, wishing she could see the images more clearly and actually enjoy its beauty. That's when it clicked. Why not combine two of her favorite things? Beautiful images and inspiring quotes into one balanced visual. That's when Picturesque Muse was born.
"My goal is to help my customers celebrate the beauty of life every day. Appreciating the small details makes every day a blessing."

Raejean Roberts, Owner
With her new business coming into fruition, Roberts has learned more about herself than ever before. The hardships that come from starting a business in today's economy has only solidified her will and determination. Customers, friends, and family alike are beating at her door for just a peek at the upcoming line of wall art prints. Her signature line, the Follow Your Heart collection, is a cohesive group of images of pathways, portals, bridges, and arches. Combining the past and the future with quotes inspiring you to take that extra step to becoming an even better you.
"My goal is to help my customers celebrate the beauty of life every day. Appreciating the small details makes every day a blessing." - Raejean Roberts| Owner / Photographer| Picturesque Muse
Roberts' business, Picturesque Muse, is on the forefront of what many want from their photography. People want to be stricken with awe at the beauty, while also getting that spark of motivation encouraging them to achieve. There are many things that set her photography apart from the rest. From the inspiring quotes added to each photo, to the amazing quality of every print; Roberts uses professional Kodak paper with a luster finish to create her prints. She also offers her images on greeting cards left blank on the inside for allow the addition of the sender's personal touch. The 5x7" cards are printed on beautiful, heavy stock and is a card that is suitable for framing. And finally, unique customizations you won't find anywhere else such as:
● The ability to vary sizes from large wall prints to small greeting card sizes.
● Print on canvas; eliminating the need for a bulky frame.
● The addition of texture and metallic highlights for a unique, one of a kind look sure to catch everyone's eye at the next big event.
Want to check out more of Raejean Roberts' fine art prints? Follow her here and subscribe to future sales, upcoming events, and new product lines:
● https://www.facebook.com/picturesquemuse/
● https://www.pinterest.com/PicturesqueMuse/
● https://www.instagram.com/picturesquemuse/
● https://twitter.com/PicturesqueMuse
● https://www.etsy.com/shop/PicturesqueMuse
Note to Editors:
You can contact Raejean Roberts at info@picturesquemuse.com for further samples, interviews, or details.
Picturesque Muse - Embrace your Space
Source: Picturesque Muse
Related Media