Motikom Announces Launch of MPlus - the World's 1st Crossover Headphones With HDNC and Bluetooth Intercom for Motorcycling and Lifestyle
New competitor MPlus, a game-changer, entered the motorcycling audio market recently. It features Hybrid Dynamic Noise Cancellation and Full-duplex Bluetooth 5.0 Intercom, which aims to make a big bang.
Press Release
-
updated: Oct 29, 2019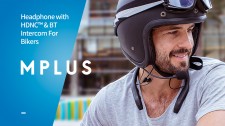 DALLAS, October 29, 2019 (Newswire.com) - Motikom, an innovative leader in high-fidelity, personal audio device for motorcyclists, announces the launch of MPlus – the World's First Noise Canceling Bluetooth Intercom Headphones for motorcyclists. Using the latest Bluetooth 5.0 protocol for rock-solid connectivity and featuring a powerful wireless intercom, MPlus ushers in a new era for audio and communication for motorcycling and daily use. Available now on Kickstarter: https://www.motikom.com
Key Features: 
Hybrid Dynamic Noise Cancellation (HDNCTM)
Ergonomic Ear Gel (EcoFitTM) & Earpiece fit all helmets
Full-duplex Bluetooth Intercom between two devices over 150m and universal pairing
Twist Control System (TCSTM) and ergonomically adjustable neckband
Dual Omni-directional microphone & specific boom microphone
IP67 Dust & Waterproof 
Backlight indicator
Two of the biggest challenges faced by motorcyclists are how to reduce the loud noise that is detrimental to human hearing during high-speed riding and keep the earplugs sitting stably in the ears when pulling on/off the helmet. Products available in the market were bulky, expensive and unreliable. They also required extensive installation of helmets that often could not be moved to different helmets.
MPlus changes all that. The entire system is placed in an ergonomic, adjustable neckband paired with comfortable stay-put earbuds that won't interfere with helmets. 
Designed for the unique rigors of engine and wind noise, MPlus features a Hybrid Dynamic Noise Cancellation (HDNC™) technology with five control levels to suit any conditions and amount of ambient noise.
MPlus minimizes most of the low-frequency noise, like engine and wind noise, but high-frequency noise, like a normal car horn and police sirens, still can be heard clearly, which gives riders a more pleasant, safe and hearing-protective environment. 
Using the latest Bluetooth 5.0 protocol, MPlus achieves great power-saving and rock-solid connectivity at the push of a button. The powerful BT Intercom System has a range of over 150 meters. It features built-in, dual MEMs for excellent, Omni-directional reception and can be used with an optional boom mic for clear voice receiver during driving. 
No longer does one need to look down and find a button. MPlus' innovative Twist control Systems (TCSTM) makes all controls easier and safer for all the users, even when wearing gloves. 
When the ride ends, MPlus is not limited to the motorcycle. The neckband and headphones can go anywhere and make a perfect noise-canceling solution for everyday use, for example, when hiking, cycling or shopping in a busy market. 
With the release of the MPlus Noise Canceling and Bluetooth Intercom Neckband Headphones for Motorcyclists, Motikom has introduced the latest technology to the motorcycle community. MPlus is available now with special discounts. Learn more at: https://www.motikom.com
Source: Motikom
Share:
---
Categories: Consumer Goods
Tags: bluetooth, full-duplex intercom, headphone, noise-canceling
---