Mosiac451 Achieves ISO 27001:2013 Certification
Mosaic451 has received ISO 27001:2013 certification for its Information Security Management System ("ISMS").
Press Release
-
updated: Oct 4, 2019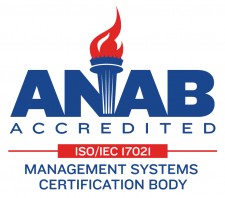 PHOENIX, October 4, 2019 (Newswire.com) - Mosaic451, an industry leader in Cyber Security Services, announced today that it has received ISO 27001:2013 certification for its Information Security Management System ("ISMS").  ISO 27001:2013 is an information security standard published by the International Organization for Standardization ("ISO"), which is the world's largest developer of voluntary international standards, as well as the International Electrotechnical Commission. This certification is evidence that Mosaic451 has met rigorous international standards in ensuring the confidentiality, integrity and availability of provisioning, monitoring and ongoing management of hosting, cloud computing and network and collocation services for Mosaic451's customers.
The globally recognized certification specifies the requirements for establishing, implementing, maintaining and continually improving an information security management system within the context of the organization. It also mandates requirements for the assessment and treatment of information security risks tailored to the needs of the organization.
Mosiac451 is committed to the continual improvement of the system in line with regulations and for the security of its people, processes and technology. "Process discipline is critical to security operations. The analysis and counter-tactics in response to cyber threat and cyber incident response must be consistent 365/24/7. Achieving ISO 27001 certification is a welcome outside assessment of our process discipline." – Mike Baker, Managing Director of Mosaic451
A-LIGN, an independent, third-party auditor, determined that Mosaic451 has formalized IT Security policies and procedures with appropriate technical controls in place. A-LIGN is an ISO/IEC 27001 certification body accredited by the ANSI-ASQ National Accreditation Board to perform ISMS 27001 certifications. A-LIGN issued the certification after Mosaic451 successfully completed a rigorous formal audit process
ABOUT Mosaic451 
Mosaic451 provides bespoke cyber operations, analysis and critical infrastructure defense for high-risk, complex and regulated (SOX, PCI, HIPAA, CIP, etc.) organizations in energy, finance, global distribution, government, healthcare, technology and transportation (among others).
Source: Mosaic451
Share:
---
Categories: Business Technology
Tags: bigdata, certification, Cybersec, cybersecurity, data, infosec, ISO
---