More Ways That Sherwood is Becoming the Trusted Partner in Exterior Building Products: No Minimum Orders, Growing Curtain Van Fleet, and Expanding Weekly Route Trucks
Press Release
•
Feb 4, 2022
As Sherwood Lumber rapidly grows its exterior and outdoor living category, it plants its flag in the ground on three competencies: Sales, marketing, and logistical excellence.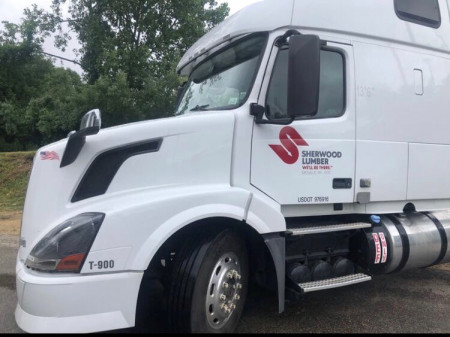 MELVILLE, N.Y., February 4, 2022 (Newswire.com) - Increasing curb appeal and enhancing beautiful outdoor living spaces is a trend that continues to grow rapidly across the United States as homeowners increasingly look to remodel their homes. Responding to this trend, over the past decade, Sherwood has been busy building out a sales, marketing and service arm solely focused on having experts in the exterior building product and outdoor living space.
To the delight of lumberyards and one-step dealers in the Northeast and the Mid-Atlantic regions, Sherwood has recently made significant investments in logistical excellence. This includes: adding several new curtain van trailers, increasing the number of weekly route trucks, and expanding the geography of these routes. In so doing, Sherwood can now service, to an even greater magnitude, every one of its geographies of focus with the impeccable service that Sherwood customers appreciate and expect.
Todd London, SVP of Sales and Marketing for Sherwood Lumber, stated, "Sherwood believes that it has carved out a valuable niche in the industry in a short period of time. Too infrequently, two-step distributions fail to understand their full role in the value chain. Not Sherwood. Sherwood is determined to be the foremost authority in the exterior and outdoor living spaces from both a marketing and sales perspective. Behind all of our strategic decisions, there is an underlying and fundamental guarantee that needs to be easily and concretely understood. That is, in addition to all of the demand-creation activities Sherwood participates in, we understand that we need to be equally dedicated to supplying that demand in an effective and efficient manner. In so doing, we are able to give the channel confidence that they can in turn guarantee extraordinary customer service to their customers. Sherwood has and will continue to invest and enhance our abilities. This is not the end of our evolution, but rather the very beginning."
ABOUT SHERWOOD EXTERIOR DIVISION
Sherwood Lumber's exterior division is an essential bridge between manufacturers and the one-step and lumberyard channels for outdoor living and exterior building products. Sherwood provides marketing support, pull and push sales efforts, and efficient logistic solutions to product lines that have in-depth SKU and complex logistical requirements in the new construction, residential and multi-family segments.
Source: Sherwood Lumber
Related Media