More Than a Million Children Under the Age of 6 Are on Psychiatric Drugs
Press Release
•
updated: Aug 17, 2017
Citizens Commission on Human Rights brought its traveling exhibit to New York to inform and educate those attending the American Bar Association Annual Meeting on what the organization called "the need for the legal community to champion the rights of children and families and protect them from dangerous psychiatric drugs."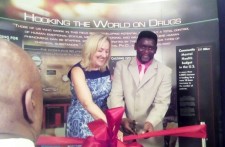 NEW YORK, August 17, 2017 (Newswire.com) - ​​Citizens Commission on Human Rights (CCHR) Commissioner Dr. Linda Lagemann opened the CCHR Traveling Exhibit at the Sheraton New York Times Square Hotel August 10 by referring to the October 2004 FDA-ordered "black box" warnings that antidepressants could cause suicidal thoughts and actions in those under 18—a warning later extended through age 24.
Despite this, Lagemann states, "In America over one million children, birth to 5 years old, are on a psychotropic drug." She called on attorneys to champion this issue "and hold accountable those entities responsible for the death and disability of our future generation."
Psychiatry has a long history of brutal experiments. Lobotomies were marketed as a miracle cure in their day.

Dr. Linda Lagemann, Citizens Commission on Human Rights Commissioner
She described various features of the exhibit that provide the history of psychiatry and put today's practices into perspective. "Psychiatry has a long history of brutal experiments. Lobotomies were marketed as a miracle cure in their day. JFK's sister was lobotomized and could only speak three words after her institutionalization. In the 1940s and 50s, lobotomies were performed on some 40,000 patients in the United States. Today we look back and can't believe we allowed that happen. It is vital that the legal profession take the initiative in protecting American children and families from experimental and highly dangerous practices."
Dr. Lagemann was joined by author and human rights advocate Gary Thompson who pointed out that these drugs "are not the solution. They take away people's sense of self and independence. Helping people gain a sense of self, a sense of purpose and a sense of direction with their lives will address the root causes of depression and other labeled mental health issues."
Citizens Commission on Human Rights is a nonprofit mental health watchdog, responsible for helping to enact more than 180 laws protecting individuals from abusive or coercive practices. CCHR has long fought to restore basic inalienable human rights to the field of mental health, including, but not limited to, full informed consent regarding the medical legitimacy of psychiatric diagnosis, the risks of psychiatric treatments, the right to all available medical alternatives and the right to refuse any treatment considered harmful.
CCHR was co-founded in 1969 by the Church of Scientology and Professor of Psychiatry Dr. Thomas Szasz at a time when patients were being warehoused in institutions and stripped of all constitutional, civil and human rights.
Source: ScientologyNews.org
Related Media