Montreal's Polina Grace is on the Rise to Stardom With a New Inspiring Single "Enough", a Beautiful Beacon of Empowerment
Press Release
•
updated: Nov 27, 2018
Rising Canadian pop artist Polina Grace is an intelligent, independent young woman who delivers a message through her music.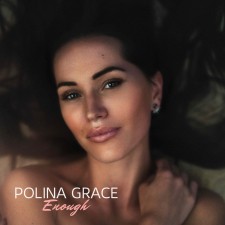 MONTREAL, November 27, 2018 (Newswire.com) - PGM Productions Co., an indie label distributed worldwide by Sony Music Canada, is pleased to announce that Polina Grace, an up-and-coming multilingual Canadian songstress, has just released her new, inspiring single "Enough." The track is both a beautifully-produced contemporary pop ballad and a song with a message, one particularly fitting in today's women's movement towards equality and prevention of harassment.
With the enormous rise of the #MeToo movement over the past year, "Enough" fits perfectly into the landscape. Today, strong women around the world continue their mission to be heard and treated with uncompromising respect and dignity, primarily by members of the opposite sex. Polina's song not only makes the listener wonder what the singer must have experienced to have become so vocal about her pain, but it also truly highlights her strength to be able to draw on her experiences to show support and empathy through her music. "Enough" makes the listener feel and want to ask questions and seek answers.
Polina Grace's talents have developed into a knockout punch Canada has yet to see in decades, gaining over 1 million likes and shares on her social media pages to date.

Eric Alper, Blogger and Publicist
"Polina Grace's talents have developed into a knockout punch Canada has yet to see in decades, gaining over 1 million likes and shares on her social media pages to date," writes Eric Alper, Canada's renowned music blogger and publicist.
"Enough" is not the only song that delivers a message of empowerment for women. On "Down," Grace's key track from her critically-acclaimed debut EP, she sings, "I won't let you drag me down, I'll rise above; won't turn around." This is a line that many who are working to overcome demons from the past can identify with and feel motivated by its positivity. On one of Grace's grittiest tracks, "In The Shade," the song lyrics state that she will not fall for dirty tricks and will not be bought with power or money. The message Grace drives home is that she will continue to stand up for herself as the empowered, independent young woman that she is.
Grace's collection of video work also surpasses the expectations of quality often expected from an indie artist. In the video for "Down" Grace executes her own fight choreography and performs her own stunts. She looks absolutely fierce with her crew of female musicians in the video for "In The Shade," and she is dressed to kill, in both a figurative and a literal sense in "Red Skies." Grace's videos are available online.
With a beautifully silky vocal tone somewhat reminiscent of a young Beyoncé, Grace began her professional journey in music only a couple of years ago, after graduating from McGill with a bachelor's degree in commerce. She has already received the attention of many industry professionals, including that of Sony Music Canada.
"Enough" is available on all streaming platforms, including Spotify, Apple Music, Amazon Music, YouTube and others. Grace also released a new music video on Nov. 21.
About Polina Grace
Polina Grace is a Canadian artist on an upward track to success both as a singer and as an advocate for women empowerment and social change. She is an inspiration to many young women. Grace is multilingual and McGill-educated. Her powerful voice delivers a meaningful message through her artistry. For more information, visit PolinaGrace.com. Follow Polina Grace on Facebook and Instagram.
Source: PGM Productions Co.
Related Media
Tags
Related Files
Additional Links