Monte Jade West and Singapore Global Network to Jointly Host a Webinar on a Topic of Visionary Unicorn Builders in Southeast Asia on April 27
Press Release
•
Apr 14, 2023
Join the panel of unicorn builders in Southeast Asia on 4/27 at 6:00-7:30 p.m. PDT.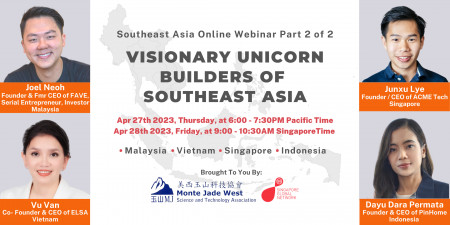 SAN JOSE, Calif., April 14, 2023 (Newswire.com) - As both the U.S. and China struggle with its economy, the GDP growth of many Southeast Asian countries is amongst the fastest in the world. Global corporations are shifting their supply chains away from China to Southeast Asia, a large population of 655 million people that is increasingly growing and is rapidly joining the internet. With over 450 million young internet users, and 85% of them shopping online, Southeast Asia has become a playground for entrepreneurs and investors.
This upcoming webinar features four proven serial entrepreneurs that have succeeded in building their innovative startups while navigating through highly diverse and challenged markets. During the webinar, the following topics will be discussed:
Southeast Asia has many startups but few proven, sizable, and regionally successful technology companies like Grab, Shopee, Lazada, and ToGo. Why is this? What does it take to grow a regional technology powerhouse?
In Web 1.0 and 2.0, China's technology companies adopted the "copy & innovate" from the West model. Today, their innovations have surpassed their Silicon Valley counterparts. Southeast Asia is still not known for technological innovation. What are the panelists' views on this issue?
The biggest challenge for any technology company is the talent shortage and the rapidly rising salary. How can this obstacle be effectively tackled?
What significant challenges and opportunities did the panelists experience building a regional technology powerhouse? Can the product be easily adjusted to suit various Southeast Asian markets, or did it require significant localization efforts?
What are the differences between building a tech startup in Southeast Asia and the United States, according to the panelists' insights? How can U.S. technology professionals, entrepreneurs, and investors tap into these insights to participate in the exciting ventures presented by the panelists?
Registration and speakers' introduction: https://www.eventbrite.com/e/visionary-unicorn-builders-in-southeast-asia-tickets-534035172577?aff=newswire
Singapore Global Network (SGN) is part of the Singapore Economic Development Board, focused on building a global community of friends of Singapore. SGN welcomes all who have an interest in Singapore and/or SE-Asia to be part of their >100k and growing network of professionals, entrepreneurs and friends! SGN will share with their members the latest developments in Singapore and Asia, plug their members in with business/finance/tech opportunities, invite their members to professional and social networking events and offer exclusive perks with Singapore brands.
Monte Jade Science and Technology Association is a professional association organized to foster the relationship between technology professionals and corporations on both sides of the Pacific Ocean. Started by Chinese-American professionals based in Silicon Valley in 1989, Monte Jade West provides an opportunity for professionals to share valuable experiences in business investments, opportunities, and management in the technology sector.
Source: Monte Jade West
Related Files