Monopsony: The New Term for Why Borrowers Wages May Be Stagnant, Reports Ameritech Financial
Press Release
-
updated: Oct 31, 2018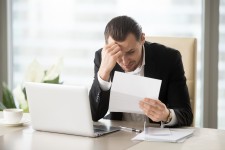 ROHNERT PARK, Calif., October 31, 2018 (Newswire.com) - Affording college is no easy task for the majority of Americans. Unless someone has a financially well-off family, it's likely that an individual would have to take out student loans to attend. When it comes time for repayment for those student loans, a lot of trouble can happen. Ameritech Financial, a document preparation service company, says that there is a new term that may shed a little light onto why student loan repayment can be difficult.
When repaying student loans, it's usually based off of the loans' original amount and not income. When someone has lower income, that puts some serious pressure on them. If a borrower is looking for ways to help their situation, they're often told to go and get a better job. It seems that job hopping is the only way now to get better pay, as most wages have stagnated and raises aren't as common as they used to be. Largely that may be due to something known as monopsony. Sounds similar to monopoly, doesn't it? It's also similar in concept, where one party has more control over something. It's recently being cited as to why more people aren't seeing wage increases, because of total or partial control of a market and an inability for people to seek work elsewhere to drive up competitive pay. "Stagnant wages don't lend themselves to easy loan repayment, as many Americans have personally seen," said Tom Knickerbocker, Executive Vice President of Ameritech Financial. 
Affording student loan repayment on stagnant wages is hard, especially when life has a tendency to throw pitfalls under people when they least expect it. Ameritech Financial may be able to help qualified student loan borrowers apply for federal income-driven repayment programs, that can potentially lower monthly payments and get a borrower on track for student loan forgiveness after 20-25 years of being in the program. "We believe student loan repayment shouldn't have to be a struggle. That's why we're so committed to helping our clients with the application process for federal repayment programs and remaining a student loan advocate," said Knickerbocker.
About Ameritech Financial
Ameritech Financial is a private company located in Rohnert Park, California. Ameritech Financial has already helped thousands of consumers with financial analysis and student loan document preparation to apply for federal student loan repayment programs offered through the Department of Education.
Each Ameritech Financial telephone representative has received the Certified Student Loan Professional certification through the International Association of Professional Debt Arbitrators (IAPDA).
Ameritech Financial prides itself on its exceptional Customer Service.
Contact
To learn more about Ameritech Financial, please contact:
Ameritech Financial
5789 State Farm Drive #265
Rohnert Park, CA 94928
1-800-792-8621
media@ameritechfinancial.com
Source: Ameritech Financial
Share:
---
Categories: Financial News, Financing and Student Loans
Tags: funding college, income-driven repayment, low income, monopsony, stagnant wage, student debt, student loan repayment, student loans
---