Monkey in Paradise (MIP) Premium Vodka Wins the Double Gold Medal at the 2017 San Francisco World Spirits Competition
Press Release
•
updated: May 16, 2017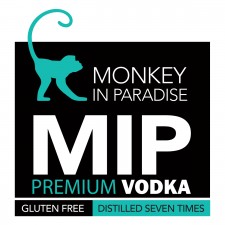 West Palm Beach, Florida, May 16, 2017 (Newswire.com) - Monkey In Paradise (MIP Premium Vodka) swings to the top of Premium Vodka brands by winning the Double Gold Medal at the 2017 San Francisco World Spirits Competition (SFWSC).
SFWSC is considered the most reliable and universal indication of spirits excellence. Spirits industry expert judges rated more than 2,100 entries in the 2017 competition. Monkey In Paradise climbed above the competition, and was awarded the highest designation of Double Gold, ranking among the finest in the world.
Hang around with Monkey In Paradise (MIP) Premium Vodka. 7X Distilled - Gluten Free - 100% FUN Award Winning Vodka - Made In South Florida
MIP Premium Vodka is branded as a fun, social, premium vodka. It started as a social experiment and evolved into a movement, sweeping the market with MIP monkey cocktail markers that gained popularity as a "break the ice" symbol for a better social experience in seeking one's personal paradise.
"Winning the Double Gold is an honor and I am so proud that MIP Vodka is considered one of the finest products in the world", says Alex Kowtun, Monkey In Paradise, Co-founder, MIP. Kowtun, along with Co-founders Frank Gomez and Seth Goldberg, launched the brand in early 2016.
"We made the judging panel feel like a VIP with MIP," said Frank Gomez, Co-founder, MIP. "We are thrilled to receive this award and thank the panel of San Francisco World Spirits Competition judges for bestowing our brand with this great honor."
"Sharing our bottled paradise with Anthony Dias Blue and winning the Double Gold … sheer awesomeness! I can't wait for the rest of the world to experience this," added Seth Goldberg, Co-founder, MIP.
MIP was honored as the official vodka of VIP hospitality at the 2016 Boca Raton Bowl at FAU Stadium and was televised worldwide on ESPN. MIP was also chosen as the Premier Beverage Sponsor of Flavors 2017, Cowboy Ball, Super Car Week and other South Florida events that wanted to encapsulate the fun and quality that MIP brings. The brand is embarking on a national campaign to further its social reach.
About Monkey In Paradise: In 2016, MIP launched its signature, premium vodka — made in South Florida, 7X distilled, gluten-free, and served with its signature MIP monkey cocktail marker "conversation pieces."
www.MonkeyInParadise.com
Get Social @MonkeyInParadise
PRESS CONTACT: INFO@MonkeyInParadise.com
About The San Francisco World Spirits Competition: The San Francisco World Spirits Competition, the largest, most influential international spirits competition in America, is judged by a prestigious panel of nationally recognized spirits experts. Judging is based on a blind, consensual procedure, ensuring competitive integrity, as it remains the nation's most respected spirits competition. For more information about the competition, visit https://www.sfspiritscomp.com
Source: Monkey In Paradise, LLC (MIP)
Related Media