ModulTrade Token Sale Now Open
Press Release
•
updated: Nov 29, 2017
Democratizing Global Trade with Blockchain Technology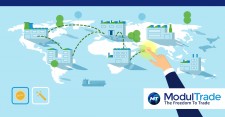 LONDON, UK, November 28, 2017 (Newswire.com) - On 28 November, ModulTrade launched their main token sale as a means of allowing users to participate and support functionality of their blockchain-based global trade platform for micro, small and medium enterprises (MSMEs).
Cited as one of the Top 20 Most Promising Blockchain Technology Solution Providers, the ModulTrade platform taps into the heart of blockchain technology, providing users a secure platform, with a simple digital end-to-end trade process, and transactions in real time. The application of smart-contracts legally and efficiently replaces conventional financial trade instruments, such as letters of credit and bank guarantees. Overall, ModulTrade provides a new opportunity to MSMEs, minimises costs and time in a trusted digital marketplace, which allows businesses to meet, commit and execute trade securely.
The ModulTrade team aims to foster the next commercial revolution in trade finance, with the new concept developed at MIT during 2016-17. ModulTrade will run off a smart-contract blockchain based eco-system, bringing together a comprehensive range of services for the full B2B trade cycle. Operating globally, the platform will allow for cross-border trade for emerging markets and micro, small and medium enterprises. The product will be accessible online and through smartphones, allowing complex trades to run in real time, increasing efficiencies and lowering businesses' overall costs.
Through continual development and testing of their minimal viable product, the ModulTrade technical team has found themselves in a position which rises above others, with bringing forward the launch of their fully functioning platform — a new digital marketplace which is now live and ready to trade on.
Currently, the ModulTrade platform accepts ETH (Ethereum) in addition to MTRc (the ModulTrade token) for funds, with plans to soon accept other ERC20 tokens, along with fiat (USD, EU, £ etc.). To allow entrepreneurs to use the ModulTrade Platform, some MTRc has been released for free float in the system. Users may buy and sell MTRc at a nominal price of 1ETH = 700 MTRc at the exchange, Etherdelta.com. Soon, the ModulTrade platform will buy MTRc at a nominal rate for fiat from merchants.
Commenting on the start-up, ModulTrade co-founder and CEO Evgeny Kaplin, said: "We launched our pre-sale in early October, our pre-sale has so far attracted participants to raise $1.5mln, or 3.5mln MTRc. We are very pleased with the progress of the sale, as much as with the development of our fully functioning platform and we are in the process of working with a German-based merchant."
The company has attracted some of the best experts in the financial trade, global currency and facilities management industries, who sit on the advisory board. These include author of "The Future of Money" Bernard Lietaer, LAToken CEO Valentin Preobrazhensky and co-founder and Chief Investment Officer of GTR Ventures Kelvin Tan, to name a few.
The ModulTrade system will change the way companies trade, open networks across the world and provide a newfound opportunity to make MSMEs go from local to global players.
ModulTrade opens its main token sale on Nov. 28, 2017.
Tokens to be distributed: 30'000'000 MTRc
Soft cap is set at: 5'000'000 MTRc
Hard cap is set at: 30'000'000 MTRc
Token price is set at 1 MTRc = 1/700 ETH
Payment is accepted in ETH, BTC, LA, fiat.
Be a part of this global trade revolution and visit https://modultrade.io.
Disclaimers
MTRcs are tokens in ModulTrade's blockchain-based platform and value eco-system.
They are not refundable, nor are they securities or for speculation. There is no promise of future performance. There is no suggestion or promise that MTRc has or will hold a particular value. MTRcs give no rights in the company and do not represent participation in the company. MTRcs are sold as a functional utility. Any value received by the company may be spent without conditions. MTRcs are meant only for experts in cryptographic tokens and blockchain-based software systems.
ABOUT MODULTRADE'S FOUNDERS
Evgeny Kaplin, CEO
Russian-born Evgeny has 17 years' experience in the trade finance and payments business and during his career has successfully launched and run highly profitable global trade finance platforms at leading European banks. Evgeny has a global reach, having worked in key financial hubs, including Singapore, Geneva and London. He has fulfilled successful roles at top financial institutions including Cargill, Sberbank, McKinsey and Gazprom. Evgeny brings his extensive knowledge of the financial trade industry and business acumen.
Jean Chaanine, COO
Jean brings his 25 years of experience in technology and having adopted senior management and strategic roles in the banking sector, provides operational direction to the team. He has delivered projects at UBS, Credit Agricole Corporate Investment Banking, Sodexo, French ministry of finance and Banque de France. The French national, with his entrepreneurial flair, is also co-founder of a digital concierge platform and an IoT services-focused business.
Karthikeyan Kaliyaperumal, CTO
Karthikeyan has developed his career in Technology Strategy and Product Management during the 20 years since he began working in the sector. His experience working at Fortune 500 companies, including Aramark, Charles Schwab, Nielsen, brings sound and knowledgeable expertise in building supply chain, finance and marketing platforms. He has also managed global technology teams across Europe, Asia, LATAM and the U.S. Born in India, Karthikeyan now lives in the USA and provides the technical nous to the ModulTrade project.
Fedor Sapronov, Co-founder / Business development
Seventeen years in corporate banking and investments with deep experience in Lending, Project & Structured finance. Executive positions in top banking institutions - Sberbank, Alfa-bank, Gazprombank.
Marco Rosso, Product development
Marco completes the ModulTrade team, providing consultancy in financial risk. He has 17 years' experience in the EMEA financial services and banking, and has set up new business structures, developed cost-of-risk optimization models. He has consulted at the Big Four, including Ernst & Young.
Alexei Katrich, Co-founder
Alexei is a consultant in FinTech, InsurTech and Blockchain, and has over 20 years of professional IT and banking experience, with a deep and excellent knowledge in banking transformation, product development and information security. During his career, Alexei has held executive roles at IBM, UNISYS, ING, Intesa Sanpaolo, Deutsche Bank and Sberbank.
ABOUT MODULTRADE'S GOVERNANCE
ModulTrade takes the safeguarding of all participants in the token sale seriously. Security is one of ModulTrade's core principles, with the team taking several steps to provide the best possible governance of the token sale and protection of the platform technology. ModulTrade is working with professional and experienced financial consultants, applying best practice procedures to ensure a structured token sale. All steps have been taken to protect the participant, through implementing independent audits, validation of the ModulTrade proposition and a secure wallet controlled and protected by an independent qualified entity.
Understanding the risks of cyber hacks, ModulTrade is enforcing full cybersecurity across all ModulTrade online channels. An independent auditor has been recruited to ensure protection and participants funds are not jeopardised. In the event of a security breach, ModulTrade, with the help of cybersecurity experts and communications team, will inform participants of such and provide clear instructions.
For further information, request for interviews or images, please contact Sonal Patel. +44 7904 197 903. sonalp@barnettfletcher.
Source: ModulTrade
Related Media
Tags
Related Files
Additional Links