Modulaj by TRiiNG: Kickstarter Campaign for Titanium Smart Ring With Context-Based Smarts
Featuring Lab-Grown Sapphire and Spinel Gemstones
Press Release
-
updated: May 12, 2017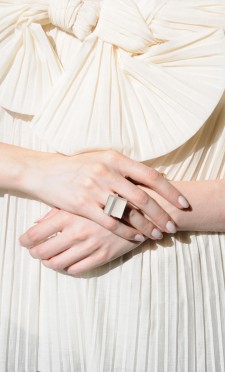 Toronto, Canada, May 12, 2017 (Newswire.com) - On May 11, 2017, 9.00 a.m. PST, TRiiNG (www.triing.in) launched their Kickstarter Campaign for Modulaj, the first in a range of forthcoming fine jewellery embedded with smart technology, and the first biocompatible Titanium wearable featuring lab-grown Sapphire and Spinel gemstones. 
Inspired by Montreal's mid-century Brutalist architecture, Modulaj smart ring is a notification apparatus for one to be connected and yet detached from the incessant digital noise that envelops us.
With Modulaj, TRiiNG Collective has created the means for users to interface with their Android or iOS smartphone using touch-input and receive context-derived visual/sensory alerts. Modulaj is conceived to return to the user full control over relevance and amount of information received.
Incoming phone calls, SMS and email notifications are filtered using word clouds and most relevant alerts passed through. Modulaj is as much productivity tool as style statement. Tether your smartphone. Rest easy knowing Modulaj delivers the most pertinent bits and bytes to your fingertips.
FEATURES OF MODULAJ
Modulaj is available in ring sizes: US 6, 7, 8, 9, 10, 11
MATERIALS
Aircraft grade biocompatible Titanium body
Lab-grown Sapphire and Spinel gems
Weighs 15 grams
Water-Resistant
Fully recyclable
HARDWARE
Smallest hardware footprint at 16.3 by 16.3 mm
Cortex M4F microprocessor for efficient data processing
Flash storage to function independent of smartphone
Ultra-sensitive 3-Axis accelerometer for superior haptic response
Power efficient vibration motor
Rechargeable Li-poly battery with 24-hour life
HAPTICS
Activate smartphone by tapping Modulaj
Broadcast SOS with geo-location coordinates
Initiate a fake phone call
Silence ringer of smartphone
VISUAL & TACTILE ALERTS
Profiles — at work/at leisure — to prioritise inbound phone calls
Customisable vibration and LED settings
Contextual — word clouds filter SMS messages and emails
Independent calendar alerts
Notifications from third-party apps (Uber, WhatsApp)
AESTHETICS OF MODULAJ
Modulaj smart ring anticipates the return to brutalist architecture of Montreal's Société de transport de Montréal and explores the versatility of straight lines and modular efficacy of interlinked segments. Fine jewellery immersed in technology, the ring expresses the stark brutality of sheet metal and softens lines by thoughtful arrangement of accents — of polished and buffed metallic sections capped with translucent lab-grown semi-precious gems chosen as much for their hardness on the Mohs scale as for their colour — Ciel in blue Spinel and Noir in black Spinel, and Glace in white Sapphire.
Formal metal working techniques and precision engineering come to the fore with this art | tec offering.
ABOUT US
TRiiNG Collective tapped a global network of talent to bring to market their first offering. The core team is Sinh and Proma, seasoned professionals working at the intersect of luxury, fashion and technology with combined experience of 30+ years. 
Sinh Bisen, Founder and CEO, has an impressive resume spanning business strategy, online security, investor relations, literary fiction writing and summa cum laude PhD from the University of Miami, Florida. With two IPOs under his belt, Sinh is your quintessential start-up veteran who has set his sight on the Wearable market. 
Proma Roy, Founder and Creative Director, has been deeply rooted in the fashion industry for over 25 years. An alumna of Parson's School of Design, New York, she has vast experience with luxury brands, womenswear design and brand development. Proma has worked with avant-garde designer Isabel Toledo, The Costume Institute at The Metropolitan Museum of Art, New York, and as Chief Designer with Ports 1961.
IMPORTANT LINKS
KICKSTARTER CAMPAIGN PREVIEW:    http://kck.st/2qxVnme 
MODULAJ VIDEO PREVIEW:         https://youtu.be/wtfc14bvvqI
TRiiNG PRESS KIT:            https://www.triing.in/press-kit/
Deepak Sinh Bisen
CEO & Founder
www.triing.in
REGISTERED OFFICE
INUVUT INC.
6 Trenton Terrace
Toronto, Ontario 
Canada. M6K 1C6
phone: +86 18750901947
info@triing.in
Source: Triing
Share:
---
Categories: Electronics, Fashion and Apparel
Tags: Crowdfunding, Full Circle Sustainability, Lab-grown Gems, Smart Ring, Titanium Jewellery
---
Related Files
Additional Links