Model Basketball Valentines NYFW Party + Charity Influencer Game to Take Place at Barclays Center
On Feb. 14, the Model Basketball Valentines NYFW Party & Charity Influencer Game (plus Nets vs Pacers) takes place at the Barclays Center.
Press Release
-
updated: Feb 14, 2018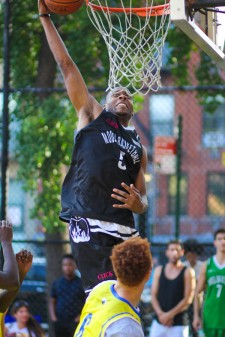 NEW YORK, February 12, 2018 (Newswire.com) - A Parker Production, the Model Basketball Valentines NYFW Party + Charity Influencer Game, which with ticket purchase will include the NBA's Brooklyn Nets vs Indiana Pacers game.
MB Valentines NYFW Party starts at 6 p.m. in the Billboard Lounge (in the Barclays Center), then watch the Brooklyn Nets square off against the Indiana Pacers at 7:30 p.m. and stick around to watch the Model Basketball Charity Influencer game start at 9:30 p.m. The charity game, which efforts benefit the Chloe & Maud Foundation 501(c)(3) founded by world-renowned tap dancers Chloe & Maud Arnold), will feature agency-represented models, social media influencers and celebrities who are coming together to compete, assist raising donations through the campaigns arranged by fundraising partner "PlayCause" and to support the Chloe & Maud Foundation's mission of "providing equal opportunities to educational programming that educates and inspires the youth around the globe through the arts, dance & entrepreneurship."
The Valentines NYFW Party will have DJ Cam Wink on the sounds and the Charity Influencer game is to be headlined by Broderick Hunter, Young Paris, Joey "King Handles" Haywood, Richard "ForeveriBall" Starling, Mike "Better Bounce" Kaufman, Brandon "Werm" Lacue, Fitz "The World Citizen" Henley, Greg Rosborough, Dana Isaiah, Khalil McDonald, Reyna Scott, Joseph Bunce-Grenon, Kara "Miss USA 2017" McCullough, Dani Seitz, Deja Mattox and MB 3 on 3 NYC Agency Tournament Champions from Click Model Management, while hosted by Maria "DJ Ria" Clifton & Brandon Parker (event producer). Products provided by Nike (Footwear Only), Nike sportswear, Jason Markk, Urbanista, Hoopcrate, Capture Flow, Ride with Via, Sole Pack, Shea Moisture and Shea Moisture Men. Lastly, gift cards provided by ISlide and Ride with Via. Perfectly timed, the events take place on the last day of the much-anticipated Fall/Winter 2018 New York Fashion Week and on the Valentine's Day holiday.
"We are very excited for the opportunity to produce an elevated fashion-filled day of events at the Barclays Center as well as simultaneously create a platform for philanthropic work," says Brandon Parker, founder of Model Basketball. "Model Basketball's goal is to add a new dimension to the festivities of fashion week. This event will celebrate the sporting aspect of the fashion industry, recognize brands that shape our daily identities, highlight artistry in all forms and have lasting impact." 
Parker moved from the Washington, D.C, area to New York City more than 10 years ago to launch a career in modeling. With a decade of global modeling experience representing Q Model Management, Fusion Models, Motto Entertainment and formerly Ford Models, Parker built and maintains a worldwide network across all industries. In addition to modeling, he has years of experience having worked in all aspects of the fashion industry including event production, public relations, styling and photography assisting in the Greater New York Area, which he brings to Parker Production events.
Parker Productions is looking for media coverage, others interested in Model Basketball at the Barclays Center (Model Basketball Valentines NYFW Party & Charity Influencer Game) and sponsors for future events.
For more information on the Feb. 14 event at the Barclays Center or to see Model Basketball's First Annual 3 on 3 NYC Agency Tournament Recap, visit ModelBasketball.com. 
About Parker Productions
Parker Productions is an events production, public relations, talent management and business consulting company founded by Brandon Parker. The company is known for producing seamless moderately scaled events, artists development, building brand awareness and corporate sponsorship.
For more information, visit Pkerproduction.com.
Source: Parker Productions
Share:
---
Categories: Music, Non Profit, Fashion, Basketball, Sports Events, Venues
Tags: Barclays Center, Basketball, Charity, Influencer, Influencers, Model, Model Ball, Model Basketball, Models, NBA
---
Related Files
Additional Links