Moda 360 Walks on the Wild Side for the Los Angeles Zoo
Press Release
•
updated: Aug 8, 2017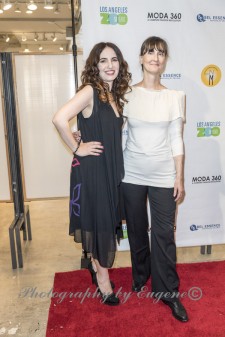 LOS ANGELES, August 8, 2017 (Newswire.com) - MODA 360, an innovative exhibit of international art, fashion and film, presented a sustainable runway to benefit the Los Angeles Zoo and Botanical Gardens conservation program and celebrate the Zoo's 50th anniversary on Aug. 1, 2017 at The New Mart in Downtown LA.
Moda 360, a fusion of art, fashion and film, incorporating exhibits and live presentations and encouraging collaborations between the three creative industries, brought sustainable designers from London, Los Angeles, New York, Colombia and Guatemala and showed the art of sustainability. This innovative company was founded by Debora Pokallus. Ethical fashion took center stage on the runway with Los Angeles designers Julie Gardner, a photographer who prints her images on cashmere, silk and cotton for a collection of brilliantly colorful scarves, kimonos and sarongs, and Deborah Lindquist, the Green Queen, who created a special animal themed collection for the Zoo, representing their West Coast home town. Atelier Tammam, a vegan couture collection from London, showed red carpet gowns with a touch of Old Hollywood. Juan Pablo Martinez debuted his new collection of recycled denim with exquisitely tailored dresses, jackets and jeans. Recent New York Fashion Week participant Melissa Lockwood brought zero waste knits from her collection IQ Test. TNT Agency created the jungle themed hair and makeup styles adding drama and excitement to the show.
The event brought out celebrity champions of the Zoo, with actress Vida Ghaffari (The Mindy Project, Holy Terror) hosting Moda 360 and her fashion and lifestyle media outlet So Very Vida serving as the Official Media Sponsor. Emmy award-winning actress Carolyn Hennesy (General Hospital), a passionate Zoo Ambassador and Emmy nominated actor Kim Estes (Brooklyn Nine-Nine) along with noted actor Darby Hinton (Daniel Boone), devoted Zoo supporters, walked the red carpet and voiced their support of the Zoo's conservation work. Founder and CEO of the World Networks, Lousine Karibian, was also in attendance. Model and actress Tamela D'Amico (Quinn) walked the runway in support of the Zoo's global work. It was European royalty meeting Hollywood Royalty as HRH Princess Francesca Gioia Drommi of Italy also walked the red carpet with actor John Blyth Barrymore (Fake News).
Moda 360 spotlighted creative work across the industries with a fashion and art exhibit of work by artists from the FiLa organization in London: Gemma Nelson, Sheree Naqvi, Kel Rae and Amy Digham. Philadelphia painter Mark Campana and LA photographer Jenna Amaya exhibited their work representing their creative point of view. LA artist Andrea Bogdan brought her latest work to live paint at the event, offering attendees a glimpse into the artist's workshop. Washington DC artist Holly Ahrens created a special art piece for the runway, making a fine art statement about habitat destruction on a couture bomber jacket. Philadelphia designer Machele Nettles displayed pieces from her Idol Light collection, jewelry from reclaimed optic glass creating a new dimension in jewelry, refracting light into a rainbow of colors. Korbata, a fair trade accessories company in Guatemala showed a collection of ties made from native Guatemalan fabrics hand woven by artisans.
The world premiere of LA Style, a fashion video by Lucinda Luvaas opened the runway, and international videos from filmmakers around the world were screened throughout the event. CE Jordan, a former model and professional storyteller entertained the audience with anecdotes from her modeling career in the 1970s. A feature screening of the award winning short film "Strangers in a Book" written by Pedram Navab and screened at the Cannes Film Festival, put the spotlight on the success of independent filmmakers, with an introduction by the director and co-writer Marc Rezvani and lead actress and co-producer Vida Ghaffari.
Moda 360 enjoyed the support of returning sponsor, natural skin care company Bel Essence, and the delicious spreads and seasonings of Sleeper's Gourmet. Amante restaurant, an Italian restaurant in the New Mart, provided beer and wine for the attendees. Janet Cao, Designer and Principal of ShopVere, offered fun and unique hair ties as gifts to all who came.
Moda 360 delivered an eclectic and entertaining program representing three creative industries and presenting the ideas, inspiration and ethics that drive the independent artist, designer and filmmaker forward in their work. Moda 360 shows the best of contemporary creation and gives a look behind the art to show the contribution these talented exhibitors offer the commercial and cultural market.
* * * * * * *
About Bel Esprit - The Bel Esprit Showroom showcases international designers of ethical fashion, and the sister showroom, Showroom International, presents the collections of international independent designers. The showrooms offer 30 years of industry experience identifying and assisting the needs of both designers and retailers to facilitate a strong business relationship, and partner with international fashion industry organizations and events to give independent designers maximum exposure. Bel Esprit promotes ethical principles through education to designers, retailers and consumers, and, through a number of global initiatives, works to create and develop more ethical resources for the fashion industry. Learn more at www.BelEsprit.net.
About the New Mart — The New Mart Building, a registered Los Angeles historical landmark located in the center of Downtown LA's fashion district, is home to 100+ showrooms representing hundreds of top lines. With both high profile and cutting edge showrooms, The New Mart is the most sought after venue for wholesale fashion buyers from around the world. Learn more at www.newmart.net.
About Bel Essence — Bel Essence is a natural skin care collection based on a simple idea: give skin the nutrition it needs to heal, regenerate and rejuvenate itself. Bel Essence combines natural and organic oils that are the richest sources of vitamins, antioxidants, omega 3's and fatty acids, the essential components for healthy, youthful skin. Bel Essence gives skin what nature intended and selects and combines oils with beneficial properties to maximize results without harmful chemicals and colorings. Natural oils, known for their skin health benefits, are combined to treat and nourish skin giving both instant improvement and long-term transformation. Learn more at www.belessence.com.
Source: Moda 360
Related Media
Tags
Additional Links