Mobius' Business Development Group Continues to Grow
Press Release
•
Jun 6, 2023
Cal Clyde Joins Mobius Risk Group as Vice President, Business Development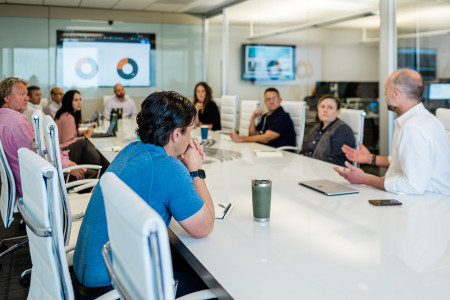 HOUSTON, June 6, 2023 (Newswire.com) - Mobius Risk Group welcomes Cal Clyde, most recently from Aegis Hedging, to join its business development team.
"Mobius' capabilities and team are unmatched in the commodities space," Clyde said. "Mobius has a great reputation in the industry, as seen by its recent win of CTRM House of the Year and encompasses a comprehensive solution to aggregate all things related to financial and physical risk management," he added.
"We are excited to marry Cal's enthusiasm for the commodity space and helping clients with Mobius' market-leading strategy, thought leadership, and technology platform, RiskNet," said Eric Melvin, Mobius' Chief Executive Officer.
About Cal Clyde
Cal Clyde has spent the last few years specifically focused on supporting upstream E&Ps, midstream and mineral royalty companies in the commodities space. Prior to joining Mobius, he was in business development for Aegis Hedging, assisting companies in tailoring specific financial hedge programs to their goals, objectives, and risk tolerances. Clyde has worked in a variety of business development roles ranging from construction supplies to oilfield services following a brief professional golf career. He has a BA in journalism from Texas Wesleyan University.
About Mobius Risk Group
Mobius Risk Group is an independent commodity and energy risk advisory and technology firm. Founded in 2002, Mobius blends technology, robust data and analytics, and bespoke commodity risk strategies to manage the potential risks and opportunities in your business. More than just a system of record, RiskNet is Mobius' System of Intelligence that converts thousands of datapoints into meaningful intelligence to guide informed risk management decision making amid volatile market changes. RiskNet's suite of tools includes M-Risk (Risk Analytics) and G-Risk (Carbon Risk Management), and a library of 60+ reports to meet the needs of multi-asset commodity producers, consumers, and distributors, as well as their capital providers. Recognized by Energy Risk Magazine for its innovative work, Mobius was awarded CTRM House of the Year in 2023, Commodity Research House of the Year in 2022, and Data and Analytics House of the Year in 2021.
Source: Mobius Risk Group