Mobile App Provides Realtime Voter Sentiment in Presidential Primaries
DebateRate, a mobile app developed a joint partnership between HCD Research and KDG has had overwhelming success since last Thursday's Democratic Primary Debate. Over 500 users have signed up to rank the candidates in realtime during a debate and answer daily polls not only related to the candidates, but also news topics that impact them. Weekly DebateRate data shows that a portion of voters who support Bernie Sanders are likely to vote for Donald Trump should Sanders not win the nomination.
Press Release
-
Apr 22, 2016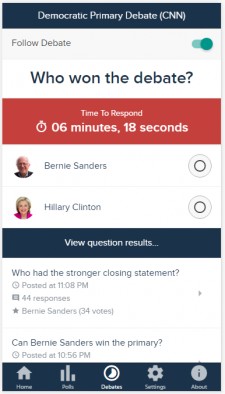 Allentown, PA, April 22, 2016 (Newswire.com) - KDG (formerly The Kyle David Group) and HCD Research have teamed up to create a mobile app that collects realtime voter feedback on candidates during a debate and beyond.  Last week, the app debuted to a user base of nearly 350 as candidates Bernie Sanders and Hillary Clinton took to the stage in Brooklyn.  
After each candidate made remarks on a specific issue, users were given only a few minutes to provide feedback on the believability, credibility, and viability of each of the candidates responses and ideas.  That data was reported out in realtime at www.debaterate.com.  In addition to feedback on the debate, users have been issued 5 second polling questions daily.
Within seconds of asking a question, DebateRate has the answer from the voters themselves.
"This project really began as an experiment to see if we could engage the electorate in a more meaningful way than just posts on social media.  We've been so happy to have HCD innovate with us and participate in the experiment," remarked Kyle David, CEO of KDG.  "The quality of the data that we are receiving is incredibly telling.  For data wonks like myself, it is a joy to analyze."
Since the debate, the user base has swelled to over 500 users and counting.  Those users have responded to the following daily polls:
4/16 - Does the Pope's tacit "endorsement" of Bernie Sanders matter to you as a voter?
4/17 - Do you think a President Trump could negotiate peace between Israel and Palestine?​
4/18 - Do you think that Saudi Arabia was involved in the 9/11 terror attacks?​

​​

​Yes

 - 36%
No - 14%
Not Sure - 50%

4/19 - Do you feel empowered as a voter? 
4/20 - In a general election, which candidate would you vote for?

​​

​Hillary

Clinton - 61%
Donald Trump - 39%
Perhaps the most interesting data came on Thursday after the significant victories by Hillary Clinton and Donald Trump in Tuesday's New York primaries.  34% of self-identified democrats that support Sen. Bernie Sanders would vote for Donald Trump in a general election of Trump v Clinton.  
"Being able to cross tabulate data to see how voters' perceptions are evolving is really neat.  Within seconds of asking a question, DebateRate has the answer from the voters themselves."
The DebateRate mobile app is available in the Apple App Store as well as Google Play.  The realtime results are available on KDG's website.
About KDG: KDG is a high-tech consulting firm headquartered in Lehigh Valley, PA with satellite offices in Washington, D.C. The firm focuses on developing realtime software, websites, and mobile apps for higher education, nonprofit, and closely held private businesses.  DebateRate was a rapid application development project from the firm's nonprofit mobile app development group.   www.kyledavidgroup.com
About HCD Research: HCD Research is a marketing and consumer sciences company that provides expert recommendations by employing traditional and applied consumer neuroscience to optimize the design of market research projects for our clients.  www.hcdi.net
Source: The Kyle David Group
Share:
---
Categories: Elections, Politics, National News
Tags: bernie sanders, debates, donald trump, election, hillary clinton, john kasich, primaries, ted cruz
---