MLB Hall-of-Famer Andre Dawson Seeks Help to End Child Drownings
Cubs outfielder shares his sadness over the loss of so many children losing their life to a drowning.
Press Release
-
updated: Aug 9, 2018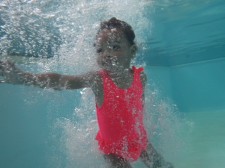 PALM BEACH GARDENS, Fla., August 9, 2018 (Newswire.com) - Lately, there has been much talk about children drowning in the United States. The drowning death of a celebrity's child brings the almost daily occurrence to the front page of newspapers and breaking news on social media. Attention to water safety is always welcome and Andre Dawson, Chicago Cub and Montreal Expos Hall of Fame slugger, who has been a Baby Otter Swim School ambassador for 14 years, would love to hear more about drowning prevention and less about senseless tragedies.
"Throughout the course of my 62 years, I have truly been blessed to have opportunities and incredible successes – those that children across the world dream about every day. Not a day goes by that I am not thankful for every success that I have been blessed to achieve. But the one blessing I have only come to appreciate in recent years is that I achieved those successes despite never having learned how to swim as a child. While I am grateful that neither I nor anyone in my family has lost a close relative to drowning, I have personally felt the impact of way too many cases in which families have had to endure the loss of a loved one to the life-threatening danger that water poses to anyone without basic survival skills," said Dawson.
And unfortunately, it continues to happen – nearly every day. Very little time seems to pass between tragic stories of, most often, children losing their lives to drowning.
About 13 years ago, this reality, and the awareness that this could happen to someone he knows personally, motivated Dawson to learn how to swim for the first time – at 49 years old. He was introduced to Mindy York and Marlene Bloom, who at the time were looking for a national spokesperson for their successful South Florida swim school. After hearing their story, Mindy almost losing a child to a drowning and Marlene creating this amazing five-day water survival program, Dawson agreed to join them, but knew he had to learn to swim first, so he did.
After Baby Otter Swim School taught Dawson how to swim in just 5 30-minute lessons, and then seeing the techniques they have employed for 40 years to teach infants as young as 8 months how to survive if they fall into the water, Dawson understood without a doubt that these tragic drownings can be prevented – with as few as 5 short lessons. "I have since proudly become an ambassador for the Baby Otter Swim School and their techniques," Dawson contributed, "in an effort to encourage as many people as I can to follow in my footsteps and ensure that everyone in their family (no matter what age) is no longer susceptible to losing their life to a pool."
Baby Otter's proprietary program can teach anyone how to survive in the water; from a 49-year-old professional athlete to a 5-year-old autistic girl who has since gone on to become a Special Olympics Gold Medal Champion. "Leyla Crehan is now 13 years old and together we are ambassadors for Baby Otter Swim School, working together to create awareness and spread the word that will hopefully prevent tomorrow's tragedy and build a path to the day when no child will lose the ability to realize the dreams and opportunities I was so fortunate to achieve simply because they do not know how to survive in water."
Tragedy can happen in just seconds, to even the most attentive and vigilant of parents. "Please join me in spreading awareness of this program and technique that I am certain can prevent future families from enduring the loss of a child or family member to drowning," Dawson said.
"Visit our website, www.babyotter.com, and contact us today to ensure that everyone you care about benefits from our life-saving program," added Founder Marlene Bloom. "Drowning Prevention is a real problem and we hope to help as many people as we can with the knowledge we have over the 40 years of saving lives," concluded Mindy York, the President of Baby Otter Swim School.
Dawson was back in Chicago to christen the Baby Otter Andre Dawson Aquatic Center in Lombard this past May. While the Baby Otter Andre Dawson Aquatic Center is just over a month old, the Baby Otter Swim School has been in operation since 1983. Since then, its instructors have taught over ten thousand children as young as eight months old how to swim and save themselves from potential drowning situations.
Providing instruction in its client's backyard pools across South Florida, Baby Otter also operates at the Club Med Sandpiper Bay Resort in Port St. Lucie, FL.
About Baby Otter Swim School
Utilizing its proprietary Turn, Kick, Reach® system developed and successful in Florida over the last 4 decades to dramatically decrease drownings, Baby Otter teaches children as young as eight months old how to swim in just five 30-minute private lessons. At the same time, it establishes the proper techniques needed by a child who accidentally falls in the water in order to save its own life.
For more information, call (888) SWIM-KID (794-6543) or visit www.babyotterswimschool.com.
CONTACT:
Mindy York
Mindy@BabyOtter.com
888-794-6543
Source: Baby Otter Swim School
Share:
---
Categories: Swimming, Celebrities
Tags: babyotter, drowning, drowning prevention. Bode Miller, Hoda Kotb, Savannah Guthrie, water survival
---