Mizuno and ROXY Release 'WAVE RIDER 26 ROXY' Running Shoes
Press Release
•
Mar 2, 2023
Mizuno's first collaboration with ROXY, a women's brand that originated on the beach.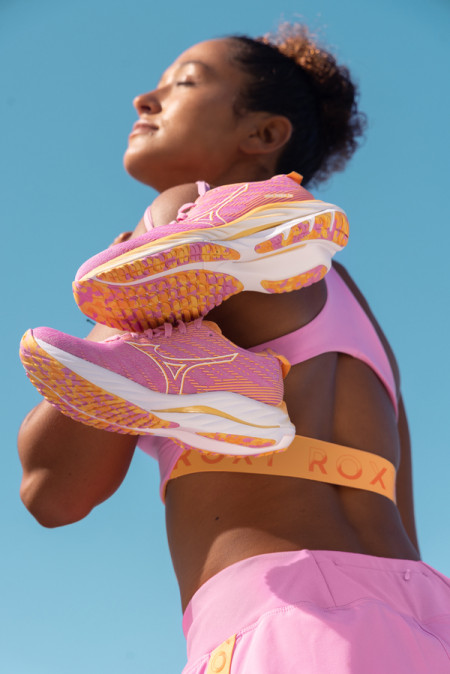 PEACHTREE CORNERS, Ga., March 2, 2023 (Newswire.com) - On March 1, Mizuno will be releasing the "WAVE RIDER 26 ROXY," the brand's first collaborative running shoe with ROXY, a brand for women who love beach culture and active lifestyles.
The collaboration between ROXY, a brand that celebrates women with positive energy and supports female athletes such as world-class surfers, and Mizuno, which encourages top athletes and sports enthusiasts to always go further under the brand slogan "REACH BEYOND," was realized as a result of their common aspirations. The collaboration was further strengthened by the two brands' shared commitment to global environmental preservation.
The collaborative model is based on the WAVE RIDER 26, a running shoe for beginner and intermediate runners. The shoe offers excellent comfort that will keep runners moving forward, and the sole is made with Mizuno's proprietary "MIZUNO ENERZY," a highly resilient sole material. In addition, Mizuno's core function, "MIZUNO WAVE," provides both cushioning and stability. They are available in two colorways, a warm pink combined with coral and turquoise, and the design incorporates a stylish surf spirit that will make anyone want to run from the beach to a favorite park.
The shoes are made with recycled polyester and plant-derived materials, and consideration is also given to reducing the environmental impact in the manufacturing process. Both brands have held the utmost respect for nature for almost 30 years, and their commitment and passion for protecting the global environment, which is our playground, have come together to create this product.
Features of the "WAVE RIDER 26 ROXY"
The WAVE RIDER series is Mizuno's most popular running shoe series, with over 10 million pairs sold globally since its debut in 1997, and is characterized by its smooth running comfort. The "WAVE RIDER 26," on which the "WAVE RIDER 26 ROXY" is based, is the 26th generation model in the series.
MIZUNO ENERZY
"MIZUNO ENERZY," which is used in the "WAVE RIDER 26 ROXY," is Mizuno's proprietary material that provides soft cushioning and high-energy return and was developed by utilizing the brand's extensive knowledge on resilience accumulated through the development of equipment outside the category of shoes as a general sporting goods manufacturer.
Made with environmentally friendly materials
The "WAVE RIDER 26 ROXY" is made of eco-friendly materials. Recycled polyester is used for the mesh upper and mesh lining material, and the "MIZUNO WAVE" plate is made with bio-based thermoplastic derived from castor beans.
Design
Based on the functionality, style, and femininity that the ROXY brand values, the shoe has adopted a design that is inspired by mountains and oceans. They are available in two colors, pink and coral, and turquoise, and can be matched with apparel products, including tops and bottoms from ROXY.
Source: Mizuno USA Inc.
Related Files