International Servants Missionary Named Belize's Honorary Humanitarian Ambassador
Press Release
•
updated: Apr 14, 2017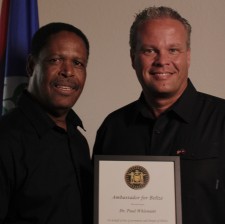 Santa Rosa, Belize, April 14, 2017 (Newswire.com) - Belize now has its first Honorary Humanitarian Ambassador. The title was bestowed on American/Belizean Dr. Paul Whisnant. Dr. Paul, as he is fondly known, has been serving Belize as a Missionary for the past 27 years doing humanitarian work.
On Sunday, March 12th, 2017, along with becoming the Honorary Humanitarian Ambassador of Belize, Dr. Paul was also given the country's Lifetime Humanitarian Award. Both were presented on behalf of the Government and People of Belize by Senator, Ashley Rocke.
From his early days as a Missionary humbly living in a leaf and stick hut, to the present day as the founder and leader of one of the largest and most well respected Christian Missions in Belize, I've seen how Dr. Paul Whisnant has faithfully served thousands of needy children and families.

Ashley Rocke, Belize Senator
Contact: Visit www.iServants.com/AmbassadorOfBelize, or contact Dr. Steve Stewart at info@iServants.com or 817-382-8484, for hi-res photos, the Citation letter, videos of this occasion or quotes from the Belize Senator, the United States Ambassador and National Church Leaders.
More: The event was held at a Church in the village of Santa Rosa in the Stann Creek District. Santa Rosa is one of the many villages that has benefitted from Dr. Paul's Ministry, International Servants, or iServants for short. The ministry has impacted tens of thousands of people, primarily in the Stann Creek and Toledo districts, and across the entire country of Belize. The ministry is uniquely comprised of a staff of over 150 which are predominantly Belizeans.
iServants has served the Belizean population in many ways including:
· Feeding programs such as Feed-A-Child BELIZE
· Frequently bringing medical teams to Belize to host free medical Clinics in poor areas
· Providing medical assistance outside of Belize including helping Belizean children receive life-saving surgeries in the United States
· Funding and building numerous Churches and Pastors' homes
· Providing wheelchairs for children and adults in need
· Sponsoring children for schooling
· Giving hurricane relief aide
· Providing training and financial support to Belizean pastors
iServants is a nonprofit Mission serving in Belize, and based in Palm Coast, Florida, and Grapevine, Texas. When not in Belize, Dr. Paul has resided in Palm Coast, Florida, and Grapevine, Texas.
iServants and Dr. Paul are hopeful that this Award and Title will inspire the next generation of believers in Belize to serve God and their neighbors.
Source: International Servants
Related Media