Minority-Owned Business NJ Home Health Care Opens Up in Jersey City
Minority couple Tarence and Carmen Brown will hold a ribbon-cutting ceremony for their new venture
Press Release
-
updated: Jul 7, 2020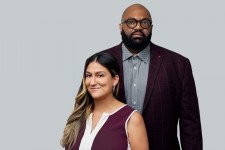 JERSEY CITY, N.J., July 7, 2020 (Newswire.com) - ​New minority business owners Tarence Brown and Carmen Brown will celebrate the opening of their very own NJ Home Health Care on Thursday, July 9, 2020, at 11 a.m. (ET) with a ribbon-cutting ceremony located at 225 Ocean Avenue, Jersey City, New Jersey, where Mayor Steven Fulop of Jersey City, Councilwoman Denise Ridley, and other city and state representatives will also be on hand to celebrate with the couple. The ribbon-cutting will take place outside of this new location on the sidewalk in an effort to adhere to social distancing guidelines.
Co-owner Carmen Brown, who is of Ecuadorian descent, has been in the human services industry for well over 15 years and she is excited about becoming an entrepreneur. Born and raised in Hudson County, Brown felt the need to return to her birthplace, Jersey City, so that she could fill a void and give back. The Browns' vision is to provide a better standard of living for the elderly so that they can age in place (at home) and, at the same time, provide jobs in impoverished, minority communities.
"Caring for a family member can be challenging. I know. I have been there. I, too, have experienced the importance of preserving and protecting a way of life for my own family,"  states Carmen, who has had to make the tough decision of whether or not to keep her grandmother and then parents at home or have them placed into assisted living. "At the end of the day, it is our job to keep family members in their most familiar environments during their most vulnerable time."
"I am extremely proud of my wife and the strides she is taking to form a business such as this," states Tarence Brown, co-owner of NJ Home Health Care. "I am honored to be her partner in business. I am also a proud African-American and I stand on the backs of my ancestors who have helped me arrive to this platform."
"It is a blessing for anyone to be able to open up a business in the heart of a pandemic," states publicist Lynn K. Hobson. "Not only are they opening up a business that will benefit their community, they are also providing jobs when the unemployment rate is at an all-time high." The opening of this business was delayed due to COVID-19 but it is back on track.
NJ Home Health Care will be providing tuition reimbursement to all qualifying employees who have completed the certification process of becoming a home health care aid. Home health care attendants will be able to provide companionship, bathing, and hygiene assistance to in-home fusions, and medication management.
Follow NJ Home Health Care on social media at njhomehealthcare or visit the website at www.njhomehealthcare.org.
Source: NJ Home Healthcare
Share:
---
Categories: Medicine and Healthcare
Tags: Carmen Brown, Lynn Hobson, NJ Home Health Care, Tarence Brown
---